Utopia drugs market forced off Tor by Dutch police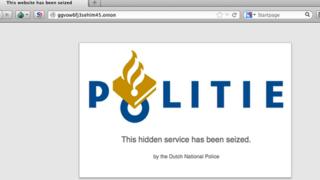 An online marketplace used to promote the sale of illegal drugs, weapons and hacking tools has been forced offline by the Dutch National Police force.
Utopia was launched last week and was hidden to the public unless they used software to access Tor - an otherwise invisible layer of the net.
It was the latest site aiming to take the place of Silk Road, a "dark net" market shut down by the FBI in October.
The Dutch police declined to reveal details of how Utopia was closed.
But a spokesman for the Dutch public prosecution service said it planned to release more information about the operation later this week.
Silk Road-style sites typically make money by taking a cut of sales made via their pages.
Drugs and guns
Utopia's launch was first reported by the DeepDotWeb news site nine days ago.
It posted screenshots showing Utopia describing itself as "a bright star in the shadows of the darknet" and promoting goods sold by third-party merchants in a range of categories:
Drugs - including cocaine, LSD, ecstasy and steroids
Chemicals - including pyrotechnics and precursors, the name given to types of compounds used to manufacture narcotics and psychotropic substances
Services - including hacking and gambling
Weapons - including firearms and ammunition
Counterfeits - including money and clothes
More than 1,200 listings had been posted within the site's first few hours. The examples posted on DeepDotWeb included sellers promising to ship the goods from the US and the Netherlands to buyers worldwide.
Prices were quoted in euros, but purchases could by made via the virtual currency Bitcoin to help keep the transactions anonymous.
The number of listings had grown to more than 13,000 when the site became inaccessible on Tuesday.
Visitors to the site are now greeted by the Dutch police force's logo and a message saying: "This hidden service has been seized."
Online alternatives
This is not the first time the Dutch authorities have targeted a Tor-based service.
In 2011, the police infiltrated sites used to distribute about 10,000 photographs showing child sex abuse. Amsterdam-based care worker Robert Mikelsons was subsequently sentenced to 18 years in prison for abusing dozens of youngsters.
While it is not yet known if any arrests have been made in the latest case, DeepDotWeb told the BBC there were still several other Tor sites promoting the sale of illegal goods.
"We just counted about 29 active markets, including specific vendor shops but excluding some others that have not yet been verified or are still under construction," said the news site's owner, who asked to remain anonymous.