EU investigation 'has UK games firms stuck in slow lane'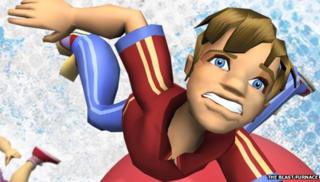 The UK games industry is "stuck in the slow lane" while the European Commission investigates planned tax breaks, a trade body has said.
Tiga, which represents independent UK developers, said projects were being stalled by worried publishers.
The warning comes as one major publisher, Activision, announced it was considering the closure of Leeds-based studio The Blast Furnace.
The tax relief scheme was announced by Chancellor George Osborne in 2012.
The measures were designed to bring the UK in line with other countries that have a thriving games development industry, including France and Canada.
They include 25% tax relief being offered on up to 80% of a game's production budget if the cash is spent designing, producing and testing the title in the UK.
'Aligning our resources'
The scheme was due to come into force on 1 April last year, but the European Commission did not approve the plan in time for that date.
It later said an in-depth investigation was required as it argued there was "no obvious market failure" that needed to be addressed.
EU competition commissioner Joaquin Almunia said that he doubted that aid was needed to stimulate video game production, and added that he feared giving the UK the green light to introduce relief could spark a subsidy race across the bloc.
Lobby group Tiga called the concerns "nonsensical", and said companies were pulling out of the UK as a result.
Last week Activision announced it was "exploring all our options" in regards to The Blast Furnace, a 47-employee studio known for mobile games including Call of Duty: Strike Team and Pitfall.
"As we focus on our 2014 operating plan, we are aligning our resources against our anticipated business requirements," the company said.
"As part of this review, we have started a consultation at Blast Furnace based in Leeds in the UK. Blast Furnace is a very talented studio and has been a great partner to Activision."
The company said employees at the studio might be moved to other parts of Activision rather than being made redundant.
The company would not comment on whether the decision was related to the delay in tax breaks.
In 2012, Activision boss Bobby Kotick welcomed the Chancellor's plans, saying it put the UK in a "stronger position".
No timetable
However, Tiga has continually expressed concern that publishers were becoming hesitant to invest in the UK.
"We have strong anecdotal evidence that it is now harming the industry," Dr Richard Wilson, chairman of Tiga, told BBC News.
He criticised the European Commission's lack of a timetable or deadline for a decision on the tax relief plans.
"They could reply tomorrow, next month, in six months or 12 months," he added. "This has really gone on for a long time now."
A spokesman for the European Commission told the BBC it did not disclose details of when investigations were due to come to an end.
A spokeswoman for the Treasury said: "We remain committed to introducing video games tax relief as soon as possible and are working with the industry to provide the Commission with the evidence it needs to address its concerns and conclude its investigation quickly."
Follow Dave Lee on Twitter @DaveLeeBBC