Prince drops $22m pirate action against fans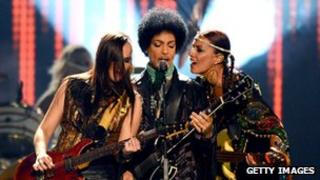 Singer Prince has dropped a $22m legal action against fans accused of posting bootleg footage of his concerts online.
The musician wanted $1m (£600,000) each from 22 internet users but, according to celebrity gossip website TMZ which has obtained court documents, he has now decided not to pursue the case.
In a statement, the artist's lawyer told TMZ that the illegal downloads had been removed.
Fans had reacted angrily to the news of the legal action.
The Purple Rain singer had intended to take legal action against 22 internet users who allegedly posted copies of his live performances on Facebook and on blogs.
"Because of recent pressure, the bootleggers have now taken down the illegal downloads and are no longer engaging in piracy," his lawyer said.
"We recognise the fans craving for as much material as possible, but we'd prefer they get it from us directly than from third parties who are scalpers rather than real fans of our work," the statement read.
Media lawyer Steve Kuncewicz had told BBC Radio 5 live that the action was essentially "going to war with his own fan base".
Pirate Bay
The 55-year-old musician has often used legal battles to crack down on unauthorised distribution of his music.
Bootleg recordings are a bone of contention within his fan base, with many frustrated that the material has not been made commercially available.
In 2007, Prince launched a legal action against the Pirate Bay, a well-known website offering links to pirated material. The case was never followed through.
The Pirate Bay has since been blocked by internet service providers in many countries around the world following court orders brought on by the music industry.
Prince recently announced a short stint of London shows, and a new album - PlectrumElectrum - which will be released later this year.