Two-month deadline over in-app charges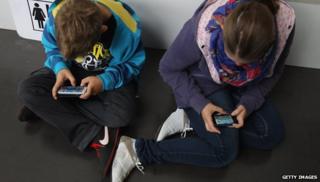 Creators of mobile apps that promote in-app purchases are being given two months to comply with Office of Fair Trading guidelines.
Apps that do not reach the standards set by 1 April could face legal action.
The OFT is attempting to crack down on instances where children rack up huge bills without their parents' consent.
Earlier this month, Apple agreed to refund $32.5m (£19.9m) to customers who had made complaints about unexpected bills from games.
A large number of mobile games now offer in-app purchases - for items such as power-ups or in-game currency - as a way of making their games profitable. Prices for such items typically range from 69p to £10, but can top £100.
PhonepayPlus, the UK regulator for premium phone lines and related services, estimates that 90% of seven-to-15-year-olds in the UK have played mobile games in the past six months.
Up-front information
Last year the OFT outlined its guidelines for app makers after studying 38 popular titles.
It concluded that app makers must:
provide up-front information about the costs associated with a game before consumers download it
ensure gamers are not misled to believe they must make a payment to proceed if that is not the case, for example if they could wait for a period of time instead
prevent the use of language or anything else that might exploit a child's inexperience, for example, implying an in-game character would be disappointed if they did not spend money
make it clear how to contact the business if the gamer has a complaint
only take a payment if the account holder provides "informed consent", in other words a charge cannot be made because a password had recently been entered for something else
In addition to those guidelines, the OFT on Thursday posted advice for parents. It includes checking the in-app payment settings on their devices and trying the games themselves to better understand how they work.
"Many children enjoy playing these types of games," said the OFT's chief executive Clive Maxwell.
"This rapidly growing creative sector has also brought wider economic benefits. Our principles make clear the type of practices that games makers and platform operators should avoid.
"Parents and carers have an important role to help protect their child and their bank balance."
Furthermore, a series of videos explaining how to change relevant settings has been posted on Ofcom's website.
'Unfair billing'
The OFT praised games companies for co-operating with their investigation into the issue, and noted that several developers had already made moves to adhere to the guidelines.
However, games that do not comply could face legal action, the OFT warned, although its first course of action would be to work with the developer to make changes.
The video games trade body Ukie said it was happy the OFT had acknowledged that protecting consumers was a shared responsibility.
"We are pleased to see the OFT recognise that parents need to be more aware of and use parental controls that are available on devices," said the organisation's chief executive Jo Twist.
"Done responsibly, micro-transaction based business models give choice and value for both players and businesses."
In the US, action from the Federal Trade Commission earlier this month led to Apple agreeing to refund in-app payments to "thousands" of customers.
The FTC said consumers had been harmed by "unfair billing".
Apple chief executive Tim Cook said: "The consent decree the FTC proposed does not require us to do anything we weren't already going to do, so we decided to accept it rather that take on a long and distracting legal fight."