Israel diary: Dinner with attitude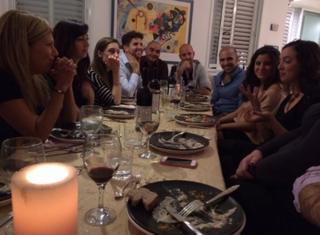 On a hectic day filming in Tel Aviv for a BBC World piece on whether Israel can mount a serious challenge to Silicon Valley, we race between a clutch of start-up companies in the start-up nation.
They include a fashion website founded by young women who want the process of choosing clothes from your wardrobe for a night out to be turned into a social networking experience. This firm has only been going three months, but is already big among fashionistas in the US.
At the other end of the scale, in beautiful Google-like offices with fabulous views over the Mediterranean, is a business which makes it easy to build your own website. This firm has just floated on the Nasdaq, joining many other Israeli companies there. But, as we chatted on the roof terrace overlooking a beach where giant waves kept rolling in, the founder told me of his impatience with a government which "still doesn't get it".
Then in the high-tech suburb of Herziliya, we are treated to an impressive demo by a young Israeli who has just returned from a job with Microsoft in Seattle. His new employer is a pioneer in gesture recognition technology, and he waves and points to change slides in a presentation or clicks on a link without having to touch a keyboard or screen.
More on those businesses when our report is broadcast next month, but all the themes of the day come together over dinner. In a Tel Aviv apartment, I knock on the door and find a convivial group of people enjoying a glass of wine before sitting down to an amazing five-course meal.
It has been prepared by three friends who include a former pastry chef at Jerusalem's King David hotel. But this is not an ordinary social occasion. The guests have come here having booked with an Israeli start-up called Eatwith, which aims to do for eating out what AirBnB is doing to the hotel trade - bring it into people's homes.
The company's founder, a former lawyer who's done an MBA at Stanford before returning to Israel to start his second business, joins us at table. A noisy and fascinating evening ensues, with conversation flowing back and forth among the diners, who are mostly under 30 and nearly all involved in the start-up world. One has returned from a career in marketing in London to help an Israeli web analytics firm develop its brand, a woman from Spain's Jewish community has decided now is the time to try out life in Tel Aviv, and two young women from London are "just on holiday" but seem tempted to stay.
I have learnt a lot - one person tells me that gambling is now a fast-growing industry here, with UK firms setting up operations to service their British customers. "We provide the developers, they provide the High Streets, and Gibraltar gives them the tax efficiency."
Another complains that Israeli firms are good at recruiting engineers locally, but "always go to New York and San Francisco for marketing and finance executives when there is plenty of talent here". And the air is full of gossip about who is up and who is down in the tech world, which company is spending too much on marketing, who has just got funding for their start-up from business angels.
The evening ends with one of our hosts, who has trained in musical theatre in New York, serenading us with a couple of songs, one a traditional Hebrew lament, the other an American rock ballad. And the guests disappear into the Tel Aviv night, ready for more adventures in this noisy, opinionated, sometimes maddening but always innovative country.