Prince fans' shock at $22m piracy action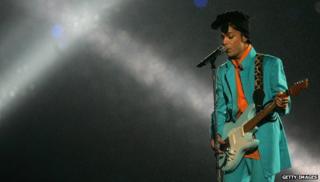 Fans of Prince have expressed shock at the musician's $22m (£13m) legal action against 22 people for posting copies of live performances online.
Court documents list the individuals said to have distributed bootleg recordings using Facebook and blogs.
"Doing things like this is making him lose more and more fans," wrote one fan on a major Prince fan forum.
However, other fans rushed to defend the singer's right to protect his vast back catalogue of material.
The action, filed earlier this month, reads: "The defendants in this case engage in massive infringement and bootlegging of Prince's material.
"For example, in just one of the many takedown notices sent to Google with respect to Doe 2 (aka DaBang319), Prince identified 363 separate infringing links to file-sharing services, with each link often containing copies of bootlegged performances of multiple separate musical compositions."
The documents go on to outline a range of blog sites and Facebook profiles where live renditions of classic Prince tracks such as Purple Rain and Little Red Corvette could be downloaded, or where links to such material could be found.
Frustrated fans
Fans on the long-established Prince.org forum suggested that although the action was surprising, it was not out of character for Prince. The 55-year-old has often used legal battles to crack down on unauthorised distribution of his music.
Bootleg recordings are a bone of contention within his fan base, who are, on the one hand, frustrated that the material has not been made commercially available, but also sympathetic to Prince's actions.
"I don't wish for the infringers to be ruined," wrote one fan, Javi.
"But I wish they do get punished enough so that this becomes a lesson for others. I appreciate Prince's music and Prince himself enough to be against people who go against his rights as an artist."
In 2007, Prince launched a legal action against the Pirate Bay, a well-known website offering links to pirated material. The case was never followed through.
The Pirate Bay has since been blocked by internet service providers in many countries around the world following court orders brought on by the music industry.
Prince recently announced a short stint of London shows, and a new album - PlectrumElectrum - that will be released later this year.
Follow Dave Lee on Twitter @DaveLeeBBC