Israel diary: Among the cyberspooks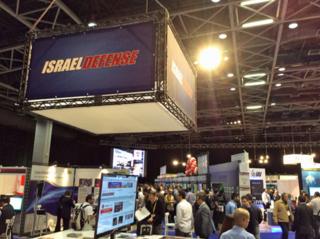 I'm in Israel for four days, visiting what's been called the "start-up nation" to film a piece which will be shown on BBC World in mid February. But along the way I'm going to give some random first impressions of what I've seen on my travels.
My first day is occupied with what Israel sees as a landmark event, its first cyber-security conference, called Cybertech. This nation is a world leader in the field, with much of the expertise emanating from the armed forces where all young Israelis serve and many get a technology training.
In the bus taking the international press corps to the conference where prime minister Benjamin Netanyahu will speak I get talking to the young diplomat who is our guide.
He tells me that for Israeli teenagers, it's start-up entrepreneurs, not footballers, who are the rock stars. "Every time people get together, everyone discusses their idea for an app or a new company."
The start-up culture is relatively recent, but technology giants like Intel and IBM have been here for decades. The diplomat told me that when he'd served as an officer in the Israeli Defence Force in the late 90s he'd been given a driver who was a reservist - all Israelis come back to the forces for several weeks each year. "When we parted he gave me a card and told me he worked for Intel, and they would give me a job any time."
And those close connections between the military and the business world, particularly in relation to cyber-security are a theme in Netanyahu's speech.
"Our military requirements force us to have a disproportionate number of knowledge-based people who work in national security," he says, outlining one of the reasons why Israel has succeeded in technology. "They're there for three years at least - it creates a critical mass. We take the best and the brightest, it creates a different kind of army - an army of knowledge workers."
He goes on to outline Israel's ambition to lead a global "coalition of the willing" to fight for better cyber-security. Already, his government has unveiled a plan to transform Beersheba in southern Israel into a global cyber-security hub, with academics from the Ben Gurion university, major corporations such as Cisco and IBM and the Israeli army's cyber-defence arm all working on a new science park.
Mr Netanyahu talks of the balance between offensive and defensive cyber-security - and of course many will associate his country with the most successful example of cyber warfare to date, the Stuxnet worm, which attacked Iran's nuclear programme.
At a briefing after the speech with the head of the National Cyber Bureau, I ask whether this offensive capability might make some countries wary of joining this "coalition of the willing" in Beersheba. Another reporter asks an interesting question about whether Israel is actually playing a double game, with the army creating cyber threats which inspire start-ups to create clever defences. Both questions are brushed off.
Overall, my first impressions are of an amazing level of ambition here. As soon as I arrived I was bombarded with messages from start-up companies eager to tell their stories. At Cybertech dozens of tiny new Israeli security firms have been given free space on the exhibition floor alongside global giants like EMC and RSA - and don't be surprised if the minnows are giants soon.
Which is not to say that this place has got everything sorted. The opening of the conference was pleasingly chaotic - long lines of people waiting to get through very tight security, and then the prime minister arriving on stage 45 minutes behind schedule, interrupting an IBM executive just as he was about to make a "major announcement".
But one thing they get absolutely right. I've never been to a major technology conference yet where the wifi functioned well. And here it just didn't work at all. Maybe someone had launched a cyber-attack.