'Scratch-and-sniff' jeans launched by Brandon Svarc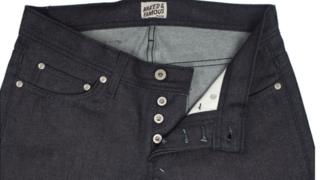 "Scratch-and-sniff" jeans may not seem the most obvious clothing item but that has not stopped designer Brandon Svarc from creating some.
The mint-scented jeans are currently being shipped to around 30 countries, including the UK.
Mr Svarc has also designed jeans coated with Teflon to deflect stains.
Previously he has experimented with denim that changes colour with heat, jeans blended with stainless steel, and glow-in-the-dark jeans.
"We designed 'scratch-and-sniff' jeans because we love fun and unique things. If I can make my customers smile, then I'm doing my job correctly," he said.
"We love innovations and will continue to make unique and crazy fabrics of all kinds," he added.
The "scratch-and-sniff" effect is created by coating the denim with a layer of micro-capsules.
The coating is put on the denim and baked into the jeans. Each of the capsules contains perfume that is released when it is scratched.
The capsules last through at least 10 washes, according to the company.
The jeans, designed for Naked and Famous Denim, cost $158 (£96).
Scented cards
"Scratch-and-sniff" technology had its heyday during the 1970s when stickers were popular with children.
Scented cards have been used by utility firms to allow residents to identify gas leaks, but were phased out when the smells from them triggered a series of false alarms.
More recently Birmingham City Council handed out cards scented with cannabis to residents to raise awareness of drugs in the area.
The BBC also used the technology when it launched the TV series Filthy Cities.
Viewers were invited to use the cards at home to experience the nasty smells of medieval London and other cities.
Aromas included "sewage" and "18th Century tannery".