NSA could 'spy on offline computers', says latest leak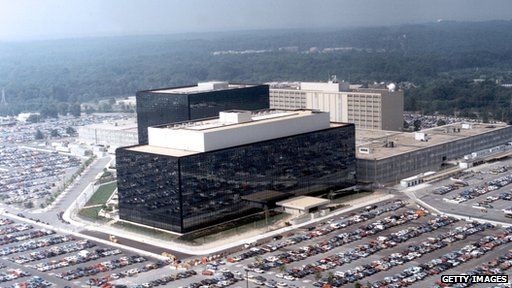 The US National Security Agency (NSA) used secret technology to spy on computers that were not even connected to the internet, it has been reported.
Citing documents from whistleblower Edward Snowden, the New York Times said 100,000 machines were fitted with small devices that emitted radio waves.
Targets included the Chinese and Russian military as well as drug cartels, the newspaper claimed.
On Friday, the US President is expected to address concerns over NSA activity.
Quoting sources "briefed" on Barack Obama's plans, the Times reported that restrictions on the scope of collecting bulk telephone data will feature, and that a person will be appointed to represent the views of the public in secret intelligence meetings.
Furthermore, tighter controls on foreign surveillance will be implemented - an attempt, the paper suggests, to dampen the political fall-out from revelations the US had obtained data from the communication tools of world leaders without their knowledge.
This latest leak details how the NSA accessed targets by inserting tiny circuit boards or USB cards into computers and using radio waves to transmit data without the need for the machine to be connected to a wider network.
It is a significant revelation in that it undermines what was seen to be one of the simplest but most effective methods of making a system secure: isolating it from the internet.
While the technology involved is not new, its apparent implementation by US security services was previously unknown.
In a statement made to the New York Times, an NSA spokeswoman said none of the targets were in the US, adding: "NSA's activities are focused and specifically deployed against - and only against - valid foreign intelligence targets in response to intelligence requirements.''
"We do not use foreign intelligence capabilities to steal the trade secrets of foreign companies on behalf of - or give intelligence we collect to - US companies to enhance their international competitiveness or increase their bottom line."