CoinyeCoin launches early despite legal threat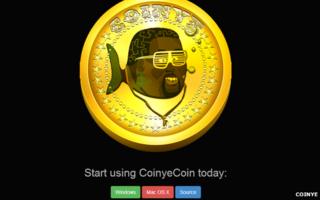 The developers of a new virtual currency originally called "Coinye West" have launched it despite receiving a legal threat from the celebrity who inspired its name.
Musician Kanye West's lawyer had sent them a cease and desist letter saying: "Consumers are likely to mistakenly believe that Mr West is the source of your services."
The currency had originally been due to become available on Saturday.
However, its name has now been altered.
The software's developers told the Wall Street Journal they had dropped the reference to "West" and now called the currency CoinyeCoin.
The virtual coins can now be created using software available via a website registered in India after the group switched from the US-based .com domain they had originally used.
"We want to release this to the public before the man can try to crush it," one of the coders told the WSJ.
"They'll still come after us, but that's OK."
One expert previously told the BBC that the public should be cautious about swapping real cash for any virtual currency until it had become established.
"There's been a number of people who have put out 'joke' currencies in the past," said Johnathan Turrall, chief technology officer at Metalair, a start-up developing currency exchange software at the University of Sussex.
"In one case, the original developers launched on obscure websites, but when they took it mainstream, and the price spiked, they sold up and disappeared."