CES 2014: PlayStation games go console-free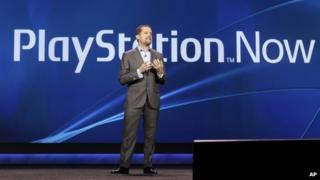 Sony has announced plans to roll out its cloud gaming service.
PlayStation Now will allow subscribers to play some of the platform's greatest hits without the need to own a console.
It works by streaming data from the company's servers. The firm's latest smart TVs will be among the first devices to support it, but Sony also intends to offer the facility to other third-party products.
One expert said the firm had a rich back catalogue to draw on.
"It's a pretty big asset," said Brian Blau from the tech consultancy Gartner.
"You can imagine the hundreds of years of manpower that went into building it up, and now they can get value from it for a long time into the future."
Sony said it would launch a restricted test of the service in the US later this month before a wider launch in the summer.
It has not provided details of plans for other markets yet or information of which smartphone and table platforms will be the first to get apps to run the facility.
The announcement was made at the Consumer Electronics Show in Las Vegas.
Tackling lag
The new facility is based on technology developed by Gaikai, a cloud gaming start-up that the Japanese firm acquired for $380m (£232m) in 2012.
Its rival Samsung had previously announced plans to partner with the firm to let its TVs offer games.
Sony said the service would also allow its new PlayStation 4 console to run titles from the PS3's library.
Since the two machines use different types of processors, the PS4 cannot currently run the previous generation's titles.
It also said that its handheld, the PS Vita, would use PlayStation Now to gain access to a wider catalogue.
Sony added that another benefit of hosting titles in the cloud was that subscribers would always be playing the most up-to-date versions.
Demo titles on show at CES include The Last of Us, Beyond: Two Souls, and God of War: Ascension.
Tech bloggers who tested the kit have noted that it does have some limitations.
"There's a slightly perceptible lag between button presses and the corresponding action onscreen," wrote Chris Welch for The Verge.
Others noted that the visuals were not as crisp as would be the case if they were running natively on a PS3. But they said the games were still playable.
Sony is not alone in offering such a service. OnLive has offered a cloud-based gaming platform since 2010, and is already available in the UK.
However, it lacks many of the big-name titles that Sony will be able to offer.
Mr Blau said that he expected that PlayStation Now would suit some titles better than others.
"I imagine that for the games that don't require a very fast frame rate that lag won't make any difference at all," he said.
"But for those that run at 50 to 60 frames per second it could be an issue if you're not close to a Sony server.
"However, I imagine the firm has the capability to ensure that most of the connected PlayStations and TV will be close to at least one of its data centres.
"And as the years go on that will become less of a problem as the internet's infrastructure matures."
PS4 v Xbox One
Sony also announced that it had sold 4.2 million PlayStation 4 consoles as of December 28.
Its rival Microsoft had previously said that three million Xbox One machines had been sold by the end of 2013.
Jason Kingsley, chief executive of developer Rebellion, suggested the numbers reflected the firm's different strategies.
"Microsoft seemed to have a US focused launch with an emphasis on TV and US sports," he said.
"Sony played the hardcore gamer card well in the UK.
"All sales are good for the development scene though and it is still early days. They are both excellent machines."