Computer programmer cracks secrets of films' dodgy code
By Zoe Kleinman
Technology reporter, BBC News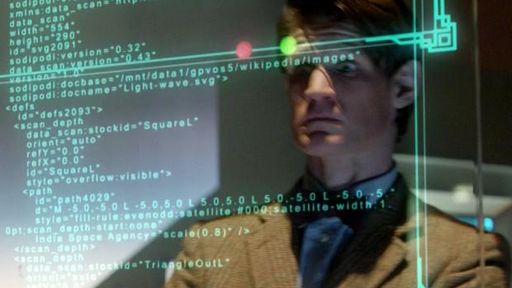 If sci-fi fans knew that the code that reboots a space station in the movie Elysium is actually taken from an Intel processor manual, they might be less than impressed.
And Iron Man's exploits seem slightly disappointing when you know that code in his visor is for a Lego computer.
Producers take chunks of coding from manuals, websites and even Wikipedia, John Graham-Cumming told the BBC.
"I was watching Elysium and this guy had to write a programme," he said. "What appeared on screen was clearly the assembly language for an Intel x86 processor - basically any standard Intel chip.
"I recognised it because I'm a programmer. Turns out,it came from an Intel instruction manual. I tweeted about it and got over 500 retweets, so I decided to create the tumblr."
Mr Graham-Cumming's site - Source Code in TV and Films - has had more than 10,000 hits since its launch on 3 January and people from around the world are now submitting their own observations about coding they have spotted on screen.
The producers of Elysium were on the right track with the code they chose, he said.
"The code they have taken is the sort of thing you might do if you were starting a microprocessor up so it is kind of relevant," he said. "Somebody knew something."
Another film featured on his site is Swordfish, a movie about hacking released in 2001. It used real code from a program that was genuinely used to crack US encryption methods in the 1980s.
'Source code... from Wikipedia'
However, he was less impressed by a scene in the BBC drama Doctor Who, in which the Doctor examines an image of a lightwave surrounded by programming code.
"It is actually the source code needed to draw [the lightwave] - it's from Wikipedia," he said.
"It's sort of relevant... but it's not perfect."
The producers of the 2010 movie The Social Network, about the creation of Facebook, appear to have taken a more serious approach to their on-screen code.
"It's written in [the programming language] Perl," said Mr Graham-Cumming.
"They either wrote something or they got really relevant code - I couldn't find it. I'm guessing someone helped them write it."
Other productions appear to have been less particular. Contributors to the site have spotted the code behind a Canadian bank website and even tech news site Engadget popping up on screen.
Mr Graham-Cumming said both good and bad code is entertaining on screen for those in the know.
"My advice to movie producers? I can't decide whether it should be 'do something relevant', because if it is accurate it is very cool... but I also like it when it's just silly," he said.
He has been astonished by the response to his site, he added.
"It's not aimed at a mainstream audience - more a bunch of nerds having a laugh about how this stuff works," he said.
"It was a bit of fun that's caught the imagination of a lot of people."
Related Internet Links
The BBC is not responsible for the content of external sites.