CES 2014: Android device sales 'to top one billion' in 2014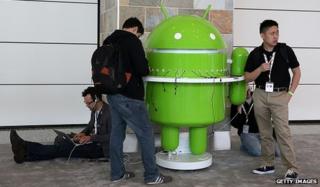 More than one billion Android-powered devices will be sold in 2014, according to Gartner's latest forecast.
The consultancy said the operating system would be on 1.1 billion tablets, smartphones, watches and other gadgets purchased this year, up 26% on 2013.
However, the report's author said Google would not benefit from all of this growth.
Sales of Android devices are growing quickly in China, but many are released there stripped of Google's services.
In addition the headline figure includes sales of Amazon's Kindle Fire tablets, which run the company's own variant of the operating system and its own app store.
Even so, the analyst said the search giant had gained a strong position in the smart device market.
"Android has the volume even if you can say Apple still has the value," said Ranjit Atwal, research director at Gartner's Global Forecasting team.
"But the question for Google is how it leverages its huge number of users.
"Many of the handset owners in emerging markets will have bought low-end phones and won't be buying many apps at this stage. The key for Google is to ensure they upgrade to other mid-tier Android devices."
The report forecast that Microsoft's various Windows systems would be on 360 million new devices sold in 2014, a 10% rise on the previous year.
It also predicted that Apple's iOS and Mac OS systems would be installed on 344 million purchased devices, representing a 28% jump on 2013.
Saturated high-end
Gartner predicted that shipments of tablets would be 53% higher in 2014 than the previous year, with uses becoming more comfortable with the idea of using the machines outside their homes.
But it said the market for high-end smartphones was nearly "saturated", and that mobile phone shipments as a whole would only grow in the "low single digits" in percent terms,
It added that PC sales were expected to stay roughly flat - which still would be an improvement on last year when they declined by about 9.8%, according to the firm.
The report was released to coincide with the Consumer Electronics Show in Las Vegas.