CES 2014: Nvidia Tegra K1 offers leap in graphics power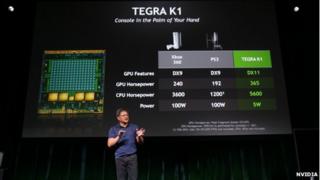 Chip-maker Nvidia has announced a new processor destined for mobile devices that it says will offer better graphics than the Xbox 360 and PlayStation 3.
The Tegra K1 features 192 GPU (graphics processing unit) cores, based on the same Kepler technology used in the US firm's high-end PC components.
It showed the chip running Epic Games' Unreal Engine 4 at a Las Vegas event.
The advance is intended to help Nvidia compete against Qualcomm and Samsung for orders from manufacturers.
The company was beaten by rival AMD for the contract to make the graphics chips that power the recently released PlayStation 4 and Xbox One consoles.
Nvidia's current generation Tegra 4 mobile chips - which feature 72 GPU cores - are used by Microsoft's Surface 2 tablet, Asus's Transformer Pad Infinity hybrid, the Toshiba Excite Pro tablet and Xiaomi's Phone 3.
64-bit chip
California-based Nvidia's chief executive Jen-Hsun Huang described the Tegra K1 as offering next-generation graphics to mobile devices "for the first time" when he announced the news at the Consumer Electronics Show.
He noted that while the chip outperformed the last-generation consoles, it required just 5% of their power.
He added that it would be released in two variants: one with a quad-core Cortex A15 CPU (central processing unit) designed by the British firm ARM; the second with Nvidia's forthcoming dual-core Denver CPU, which is a customised version of ARM's more powerful 64-bit V8 architecture.
Offering a 64-bit CPU means the chip can theoretically be used in high-end mobile devices that require more RAM (random-access memory) than a 32-bit chip can address.
Apple based the CPU of its recent A7 chip, which powers the iPhone 5S and iPad Air, on the same design.
However, Mr Huang claimed the GPU cores in its chip meant the Tegra K1 would be three times more powerful than the A7 according to the GFXBench 3.0 Manhattan test.
"It's a huge deal that Nvidia is finally putting its real talent in building high performance GPUs to use in mobile," Anand Shimpi, founder of influential component news site AnandTech, told the BBC.
"Nvidia definitely has an uphill battle when it comes to convincing device makers to pick its solutions over Qualcomm or others, but Tegra K1 is likely the best story it has ever had in mobile.
"If it can get the chips out on time and they are competitive in terms of power efficiency, they should do better than any previous Nvidia solution.
"The real impact of Tegra K1's GPU is that it raises the bar for what is expected in terms of graphics performance in mobile. And that's a very good thing."
Mr Huang told the press conference that the Tegra K1 would also be targeted at carmakers wishing to introduce processor-intensive self-drive facilities.
"You'll have a supercomputer in your car," he said.
The 32-bit version of the Tegra K1 is intended to appear in devices before mid-2014, and the 64-bit version by the end of the year.