Israel defence computers hit by hack attack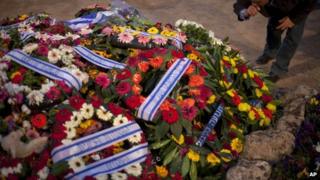 Israeli defence computers were compromised via a malicious email attachment, a computer security firm has revealed.
The email was spoofed to look like it had been sent by Israel's Shin Bet secret service tricking several people into opening it, said Seculert.
The attack left hackers temporarily in control of 15 computers that are part of Israel's defence forces.
Pro-Palestinian hackers are believed to be behind the attack.
Details about the attack were revealed by Aviv Raff, chief technology officer at Israeli firm Seculert which helped to clean up after the hackers struck and trace which machines had fallen victim.
Mr Raff pointed the finger at Palestinian involvement because of the attack's similarity to another incident that took place in 2012. That too involved booby-trapped messages sent to Israeli government staff.
The email messages sent in both attacks were written and formatted in a very similar style, said Mr Raff, adding that they also shared some technical commonalities.
The message purporting to come from Shin Bet included an attachment supposedly about the death of former Israeli Prime Minister Ariel Sharon.
He added that it was not yet clear what the attackers did after winning access to the 15 computers in mid-January.
One of the computers successfully penetrated using the booby-trapped email was at Israel's Civil Administration agency, said Mr Raff. This defence agency issues entry permits for Palestinians who work in Israel and oversees the passage of goods between the country and the West Bank and Gaza Strip.
A spokesman for the Civil Administration said: "We are not commenting on it, we don't respond to such reports."
Mr Raff declined to say which agencies or departments ran the other 14 compromised machines. However, a separate anonymous source told the Reuters agency that some of the other computers were suppliers to the Israeli defence forces.