Moshi Monsters founder and ARM's ex-boss honoured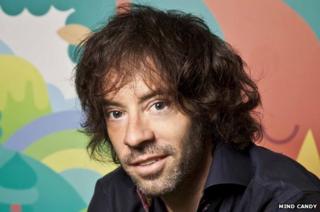 The founder of Mind Candy, the creators of Moshi Monsters, has been awarded an OBE in the New Year Honours list.
Michael Acton Smith created the firm nearly a decade ago, but it was not until 2008 that he released the adopt-a-pet-monster online game.
The title - which targets six-to-12-year-olds - now has more than 80 million registered users worldwide.
ARM Holdings' Warren East was among the other tech leaders honoured.
The 52-year-old retired as the Cambridge-based computer chip designer's chief executive in July. He received a CBE.
Slow start
Mr Acton Smith was born in Marlow in Buckinghamshire. His first business was Firebox - an online retailer whose first product was a chess set that used shot glasses for pieces.
Its success helped convince investor Spark Ventures to back a second start-up, Mind Candy.
But the entertainment firm's first project, Perplex City, proved a harder sell. The alternate reality game used the internet, puzzle cards sold in shops, text messages and live events to lead players on a 15-month long global treasure hunt whose winner eventually netted a £100,000 prize.
The contest won awards of its own, but nearly bankrupted the firm, leading Mr Acton Smith to cancel a planned "second season".
Mind Candy then switched focus to create a simpler game for a younger audience.
Moshi Monsters launched in April 2008 allowing children to adopt, name and look after a virtual monster in Monstro City, an online world where kids can play games and communicate with other members. The basic version is free, but for a monthly fee members get access to extra features.
Disney's rival product - Club Penguin - had already proved popular, but initially it looked like the British game might become Mind Candy's second flop.
"We were getting hardly any sign-ups," Mr Acton Smith later recalled in a BBC interview.
"So, we created new characters, we created new features, new ways for kids to communicate.
"And it took about a year-and-a-half until the summer of 2009 when we hit our tipping point and things just exploded. It went viral and we started adding one new sign-up every second."
The brand now has its own magazine, spin-off smartphone app, music albums and toys. Earlier this month released its first animated movie.
Moshi Monsters also recently won the Interactive Prize in the Children's Bafta (British Academy of Film and Television Arts) Awards, which were announced in November.
Mr Acton Smith recently revealed Mind Candy was working on three non-Moshi projects, all of which were designed to be used on smartphones and tablets.
'Gadget luddite'
ARM's Warren East helped build the British chip designer into one of the world's most successful tech companies.
The firm's chip architectures power the vast majority of smartphones and tablets on the market, with clients including Samsung, Apple, Sony and LG.
Mr Smith also helped expand the firm into the computer server market, with Dell, AMD and HP among companies to begin using ARM-based processors to run data centre products.
Despite repeated rumours of the firm becoming a takeover target, Mr East has long defended its business model of staying independent and licensing its intellectual property to a broad range of customers.
"A partnership business model enables us to always work with the winners," he told the BBC last year.
"Somebody who might be the leading mobile phone supplier of the day is using our technology, but we're also working with other players who perhaps are more aspirant leaders."
Despite this, he once described himself to the Daily Telegraph as a "Luddite when it comes to gadgets".
Since stepping down from ARM, Mr East has joined the board of other tech firms including Dyson, Rolls-Royce and BT.
Netmums
Other tech-related names included in the honours list include:
Cathy Court, Siobhan Freegard and Sally Russell, co-founders of the parental support website Netmums (OBEs)
Joanna Shields, chief executive of Tech City UK, a government investment group for London-based start-ups (OBE)
Michael Bracken, executive director of the Government Digital Service, which brought public services together at the gov.uk website (CBE)
Dr Hamid Mughal, director of global manufacturing at engine maker Rolls-Royce (OBE)
Penny Power, founder of Ecademy, a business-focussed social network (OBE)
Dr Jenifer Tennison, technical director at the Open Data Institute, which advises the government and other organisations on how best to make data available to the public (OBE)
Margaret McKenna, co-founder of the online training provider Learning Pool (OBE)
Colette Bowe, chair of telecoms and media regulator Ofcom (CBE)
Richard Eyre, chairman of the Internet Advertising Bureau trade association (CBE)
Michael Murphy, former chief executive of Friends Reunited and ex-chief operating officer of the Financial Times (MBE)