Artificial worm starts to wriggle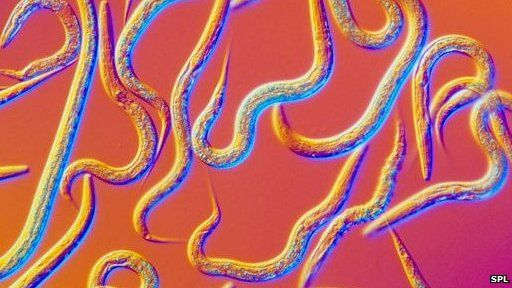 A project to create artificial life has hit a key milestone - the simulated creature can now wriggle.
The Open Worm project aims to build a lifelike copy of a nematode roundworm entirely out of computer code.
This week the creature's creators added code that gets the virtual worm wriggling like the real thing.
The next step is to hook the body up to a simulation of the worm's brain to help understand more about how and why it moves.
The Open Worm project started in May 2013 and is slowly working towards creating a virtual copy of the Caenorhabditis elegans nematode. This worm is one of the most widely studied creatures on Earth and was the first multicelled organism to have its entire genome mapped.
The simulated worm slowly being built out of code aims to replicate C. elegans in exquisite detail with each of its 1,000 cells being modelled on computer.
Early work on the worm involved making a few muscle segments twitch but now the team has a complete worm to work with. The code governing how the creature's muscles move has been refined so its swaying motion and speed matches that of its real life counterpart. The tiny C. elegans manages to move around in water at a rate of about 1mm per second.
The immediate next step for the project is to plug in the system used to model how nerve fibres in the worm fire to get muscle segments twitching and propelling the whole creature forward.
Soon the Open Worm creators hope to make a virtual version of C. elegans available online so people can interact with it via a web browser.
Related Internet Links
The BBC is not responsible for the content of external sites.