Microsoft boss donates cow via Secret Santa programme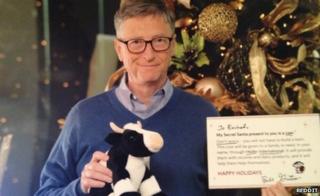 Microsoft chairman Bill Gates has donated a cow as part of Reddit's Secret Santa gift exchange programme.
He bought the $500 (£305) cow from charity Heifer International on behalf of a Reddit user known as NY1227 with whom he had been paired.
In a note accompanying the gift, Mr Gates said the cow would be given to a family in need.
In addition, Mr Gates donated an unnamed amount of cash to Heifer International to help its work.
Mr Gates' participation in the gift-swapping scheme came to light via the reports that many members of Reddit write about their experience with the programme. In 2012, more than 44,000 people took part in Reddit's Secret Santa programme.
Redditor NY1227 wrote about opening her gift package and her gradual realisation that it had been sent by the Microsoft co-founder. A note and a picture in the package confirmed that the gift came from Mr Gates.
As well as the donated cow and cash for the charity, Mr Gates included a stuffed toy cow and a National Geographic travel book in the package for NY1227. In the write-up about her gift, NY1227 thanked Mr Gates for his generosity and for matching it so well with her interests and the items she had put on her Secret Santa wish list.
All participants in the gift-swapping programme write a list of items they would like to receive as gifts.
However, NY1227 did feel moved to apologise for one item on her list that Mr Gates did not provide.
"Sorry for the apple ipad on my wishlist," she wrote, "that was really awkward."