The top memes and viral videos of 2013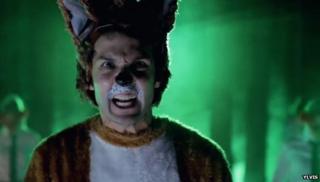 A lot has changed since last year's round-up of the biggest viral hits, in which we met Grumpy Cat, the "overly attached girlfriend" and the One Pound Fish man.
As we begin to think back to this year, it's less "come and have a look, one pound fish..." and more "come and have a look... at our expensive advertising campaign".
The history of the internet - when someone comes to write it - will no doubt look back on 2013 as the year marketers and advertisers finally worked out the internet's secret sauce, the sure-fire way of getting something shared far and wide on the internet, without the need to fill the pockets of television executives.
In 2014, will internet users begin to resent the PR stunt virals? Will our cynicism see even genuine viral hits shot down?
The BBC reached out to Grumpy Cat to see what she made of all this. Frankly, readers, her expression said it all.
But onwards, she demanded - for while 2013 may have felt the ugly hand of commercialism, and made us question our ethics at times, it at least made us laugh. A lot.
January was about... falling over
When you fall over, in public, you think two things. 1) Am I hurt? and, more importantly, 2) Did anyone see?
Well if you slipped over on Duke Street in Norwich in January - bad luck.
Chances are more than a million people saw thanks to a video called, pun-tastically, Duke Street Hazard.
That icy action was soundtracked by the Party Boy music from MTV muck-about series Jackass, but for more comic effect, perhaps they should have signed up the New York Philharmonic's David Finlayson, who in the same month shared a hypnotic perspective on trombone playing.
And in the first of many great videos uploaded by these guys this year, Bad Lip Reading took on the NFL with dubbing so good you'll be convinced that it was what they actually said.
Bad Lip Reading had form - late 2012 it posted this masterpiece - One Direction's first foreign language film, Shadow Pico. Eerie.
February was about... the Harlem Shake
It started with a few Aussies mucking about in a room... and ended with two Israeli soldiers in prison.
Yes, it can only be the Harlem Shake - a meme so popular that at one point more than 4,000 versions of the craze were being uploaded to YouTube every day.
The Harlem Shake - or at least, this viral spin-off of it - has an important legacy: the popularity of its soundtrack spurred US chart company Billboard to start counting YouTube popularity in its listings.
It's the sign of any great viral hit that as well as being sharable in its own right, the original inspires countless others - just as another hit in February demonstrated.
Even Taylor Swift, cracking set of lungs that she has, couldn't compete with the "screaming goat" cover version of her song, Trouble.
Taylor's is the original, but be sure to check out goat Bon Jovi, goat Katy Perry and goat Miley Cyrus (more about her later, of course).
March was about... lad bombs
You'd assume, in any one of Watford's fine pubs, people are still buying Chris Stark drinks.
His interview with actress Mila Kunis was the best celebrity interview of the year, primarily because it broke all the rules, and then some.
Sure, the nervous Chris may have spoken mainly about himself. And yes, he may not have discussed the film (much to the annoyance of Mila's PR team).
But what we got as a result was one of the most genuine interactions with a Hollywood superstar we're ever likely to see in this media managed day and age, complete with tales of "lad bombs", Nando's chicken and Sir Dossa.
April was about... "MEEEEEHHHHHHHH!!!"
There's no denying the educational value of the year's most "popular" YouTube clip (based on discussion and sharing, as well as views).
David Attenborough it ain't, but still - How Animals Eat Their Food (90 million views and counting) is a treat, especially the bit with the rhino.
Meanwhile, in Belfast, it was parallel parking raising the most laughs. Excruciating footage showed a poor motorist trying to get the angles right.
They'd offered to help, the giggling lads insisted, but to no luck.
Eventually, to an eruption of cheers, the car was parked.
April was clearly a good month to be looking out of windows in the UK. In Eastleigh, 35-year-old Ellie Cole was getting her dance on at a bus stop.
It was an inspiring video to many thanks to the Ellie's admirable "dance like no-one's watching" approach to life.
By September, the Dancing Queen - as she was dubbed - landed a role in a local play.
May was about… singing spacemen
He is, says Forbe Magazine, the most "social media savvy astronaut ever to leave Earth".
There's not a great deal of competition in that regard, admittedly, but Chris Hadfield's captivating work on the International Space Station had millions enthralled on Twitter.
As a final sign off, the 54-year-old, now retired, sang David Bowie's Space Oddity from the Space Station itself (and later in a BBC studio).
Later in May, inspiration (for some) of a different kind: US high school student Jeff Bliss ignited a debate about teaching standards after his rant at a teacher was filmed and uploaded to YouTube.
He later joined Twitter to continue his message further. "This is to help UPRISE a DEMAND for better education and learning," he explained.
June was about… George Osborne's burger
Down-to-earth man of the people George Osborne - the chancellor - was hard at work one night on a speech when he decided to have one of his aides tweet a picture, the focal point of which was a half-eaten burger.
"But wait!" cried the internet, "that's a posh burger!"
The burger debate raged for hours, maybe even days, until communities secretary Eric Pickles, known for being rather portly, upped the banter stakes with a picture of himself, in the same pose, tucking into a somewhat unlikely salad.
"Nice one Eric," replied Mr Osborne, as we all got on with our lives.
July was about… Sharknado
"When a freak hurricane swamps Los Angeles, nature's deadliest killer rules sea, land, and air as thousands of sharks terrorize the waterlogged populace."
Now there's a plotline.
Sharknado - that's a compound word of shark and tornado - fit neatly into the "so bad, it's good" category of straight-to-TV movie.
Such was its online popularity, a sequel has been commissioned... and fans on Twitter got to choose the name. They went for Sharknado 2: The Second One. Coming next year.
August was about... twerking
If Sharknado wasn't enough to keep people awake at night, August's viral moment certainly was.
The "twerking" phenomenon hit a new high (or low, depending on your perspective) when former Disney Club teen Miley Cyrus took to the stage with popstar Robin Thicke.
Clad in a nude-coloured bikini, and armed with a big foam finger, Miley proceeded to twerk her heart out, while the jaws of the world hit the floor.
Married dad of one Robin Thicke, meanwhile, added to the viral flames later that night after an unfortunately placed mirror revealed the exact position of his hand as he embraced a female fan for a picture that was, of course, tweeted.
September was about... being fooled
All that twerking led to one of the more controversial viral moments of the year.
It appeared to be a bona fide "fail", as they say. A girl, recording herself on her webcam, twerked around a room, before attempting some upside-down twerking against a closed door.
Thanks to a friend, the closed door soon became an open door - and with it, our twerking hero was flung into a nearby candle-covered table.
The twerker's legs caught fire - and the video abruptly cut.
For the next week, it was the talk of the internet - and it was US late night host Jimmy Kimmel who bagged the scoop, getting the girl onto his show for an interview.
We'd been had! It was all a stunt for the show. And hundreds of news organisations fell for it.
The whole saga led Felix Salmon, from news agency Reuters, to ask the probing question: Can news organisations fact check a twerking video?
Keeping with the theme of thought provoking questions, how about this one: What does the fox say?
While not quite reaching the dizzy heights of billion-hitter Gangnam Style, the relentlessly catchy song from Norway's Ylvis is a treat. X Factor fans will have enjoyed presenter Dermot O Leary's homage a month or so later.
Naturally, the fox inspired many covers - this soulful effort stood out.
October was about... one fearless rabbit
Without YouTube, this next viral moment would be consigned to the tittering memories of the three men involved, an anecdote forever doomed to end with "oh forget it, you just had to be there".
But it's 2013! And now the world can be there, over and over again.
So picture the scene: Scotland, dead of night.
The three men were driving in a van along a lonely, deserted road. When suddenly - their nemesis appeared: The Rabbit.
What followed was arguably the most infectiously hilarious five minutes ever to hit the internet, and you can watch it here, provided you don't mind some very strong language indeed.
The Ohio State Marching Band went viral several times in the year with their brilliantly choreographed performances during college football half-times. But the finest effort had to be their tribute to Michael Jackson - which steps up a gear around the four minute mark. Shamone!
Confidence is everything in the dating game, but it can be taken a bit too far: just ask the man who will forever be known in the online world as StarbucksDrakeHands. After meeting a woman he was interested in a Los Angeles chain of Starbucks, and getting her number, StarbucksDrakeHands - real name Brody Ryan - sent a short clip of himself gazing into the camera, model-like, brushing his hand across his face before busting out a broad smile.
Naturally, the recipient put it straight online - and before long, thousands, maybe millions, had taken the collective mickey out of him. Poor guy. (Here's a compilation of the funniest.)
November was about... Serge
A solid start to November on the viral front, as five French lads took a Llama for a cracking night out.
Serge the Llama had a night to remember, while Serge Lama - that's a French singer - said the night looked like a "good laugh".
A French TV channel even went to interview Serge (the Llama), but without much luck. Hungover, perhaps.
Break-ups are never easy, but what would make it worse, you'd think, would be someone listening in and livetweeting every excruciating word.
That's what Brooklyn resident Kyle Ayers did after he overheard a couple in the final moments of a relationship. It had the internet transfixed - but it did provoke some soul-searching. "Please stop live tweeting people's private conversations," asked MSNBC's Nisha Chittal.
December was about... drama in the skies
At the end of November, just days after the rooftop break-up, another live-tweeted argument was causing a stir. This time, it was on a plane, between US television producer Elan Gale, and "Diane", a fellow passenger who was being rude to employees. The back-and-forth of notes whipped up a storm.
But by December, it was all revealed as one great big hoax.
Like the rooftop break-up before it, Elan's tweets spread around the world quickly - without time for fact-checking. In an age when newspapers and broadcasters are begging for clicks, if something goes viral, suggested the New York Times, "the truth" might take a beating.
Unfortunately, for our final viral "star" of the year, her plane drama was all too real.
Justine Sacco, a major PR executive in the US, boarded a plane to South Africa, and tweeted: "Going to Africa. Hope I don't get Aids. Just kidding. I'm white!"
By the time she had landed, she had lost her job, following a worldwide wave of criticism and a hashtag - #hasjustinelandedyet - that trended around the world.
Justine has since apologised for her momentary lapse and, perhaps, can take a little comfort in knowing that 2014 will no doubt see many more like her.
What have we missed? Follow Dave Lee on Twitter @DaveLeeBBC