Former Google lawyer Michelle Lee to run US patent office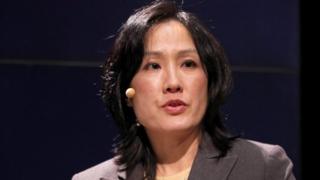 Google's former top patent lawyer has been put in charge of America's patent and trademark office (USPTO).
Michelle Lee was made deputy director of the USPTO this week and will run the agency while it seeks a new boss.
Currently head of the Silicon Valley office of the patent agency, Ms Lee starts her new job on 13 January.
Ms Lee joined the patent office after leaving Google in June 2012 but said the opinions of her former employer would not guide her work.
Google, like many other tech firms, has clashed with rivals over the technologies used in many of its products. In particular, Google has fought rivals in court for the right to use some innovations in its smartphones.
The agency is seeking a new head after the former director left to join a private legal practice in February and then the acting director stepped down in late November.
'Frivolous' lawsuits
One of the USPTO's priorities should be tackling its huge backlog of patents, said Ms Lee. Statistics released by the agency reveal that currently there are almost 600,000 patents awaiting assessment by its examiners.
In addition, said Ms Lee, she would work to improve the quality of patents being approved in a bid to reduce the number of "frivolous" lawsuits kicked off when firms are granted the rights to overly broad technological innovations.
Many tech firms have been embroiled in legal fights with so-called "patent trolls", who win approval for an idea and then seek large licence payments from firms they claim are using their technology without permission.
On 5 December, the US House of Representatives approved a bill known as the Innovation Act, which aims to make it harder for trolls to get their patent applications approved and forces them to supply more detailed evidence of infringements. The act must now be approved by the US Senate before it becomes law.