Fit for the future?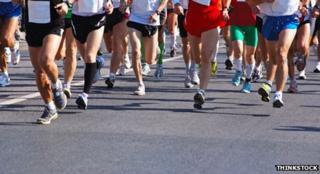 Two men slightly obsessed with their health met in a London coffee shop yesterday and talked for half an hour about how they tracked their daily activity levels using the latest technology.
One, an American on a business trip was short of exercise as he'd just arrived on the Eurostar from Paris - but revealed he normally covered at least six miles a day. The other moaned about a crippling back problem that meant his usual daily goal - as measured by a Nike Fuelband - was far out of sight.
The first man was James Park, founder of fitness tracking firm Fitbit, the other was the author of this blog, who combines an interest in the latest gadgets with a middle-aged man's concerns about keeping his weight down and fitness levels up. The question is whether my behaviour is typical enough for Park to be on the verge of something huge - or is this just a small and unprofitable niche?
Wearable technology - from Google Glass to every kind of smart watch - is certainly hot right now, and health and activity monitoring is a key area sparking interest.
Fitbit, founded in San Francisco six years ago, claims to be the leader of the pack, with a bigger range of products and better distribution than the likes of the Jawbone Up or Nike's Fuelband.
Park, a Harvard-trained computer scientist now on his third start-up, says when he started looking at the fitness market he took his inspiration from Nintendo's Wii, which combined exercise and technology in an an entertaining way. "What was out there was either targeted at serious runners - high-end Garmin watches - or cheap pedometers," he says. "There was nothing that took sophisticated technology and made it available to the mass market."
The company started with a clip-on monitor that connected via a wireless dongle to your computer, measuring how far you walked, how many stairs you climbed and the calories expended. But it was only with the adoption of smartphones and the ability of low-power devices to sync their data via Bluetooth that Fitbit began to reach beyond a very specialist audience.
All of this is something of a gamble on human behaviour and how much information we can absorb - even when it comes to as fascinating a subject as ourselves. Park thinks the data can make a difference: "A lot of times people are shocked when they see the evidence of how much they're not exercising or sleeping," he says. "It's all about making the invisible visible and using that data to motivate people to change their behaviour."
The big question, though, is not whether we are going to buy and wear smart devices - that is happening - but just how much we want them to do. I've tried a number of fitness monitors and found that many offer too much data. The Nike Fuelband, however, puts a simple readout on your wrist of how much "fuel" you've consumed and that makes it a good motivator. If I'm short of my 3,000 fuel points - and yes, it's a rather meaningless currency - I will take the dog for a walk around the block.
There now seems to be growing convergence between smart watches and activity monitors. Fitbit's latest model, yet to appear in the UK, is the Force, a tracker worn on the wrist which gives you the time and some limited smartphone applications. It looks neat, but the display is so tiny that it won't really be able to rival more sophisticated devices.
Mr Park naturally thinks his company has got the balance just right compared with the smart watches. "You can't do too much, if you cram too much in it makes them bulky and expensive," he says. But his other competition is from smartphone apps that measure your movement. While they drain a battery pretty rapidly they are mostly free and may do enough for many people.
But Park says a device that you leave on a coffee table when you go home won't do the job properly. He says Fitbit customers, who typically are slightly overweight, are upping their activity levels by 30% to 40% after three months of using their device.
Big names, including Qualcomm, Softbank and SAP, have backed the company - among many bets now being placed on wearable technology. Much of that money will be wasted - after all there isn't room on our bodies for all of these devices. But Park is confident there are enough slightly overweight, health and statistic obsessed gadget-lovers out there to give Fitbit a good chance of surviving and thriving.