Snapchat files for restraining order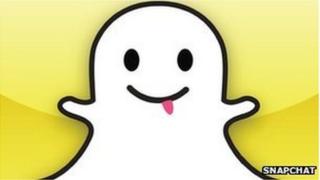 The image-messaging service Snapchat has filed for a restraining order against a man who claims he came up with the idea for the company.
In court documents filed on Friday, Snapchat said that Frank Reginald Brown disclosed confidential information about the company to the media.
Snapchat lets users send photos to eachother on mobile devices which are then erased after a few seconds.
According to the firm, more than 350 million images are sent every day.
The court documents, which were filed in California, state that a restraining order is necessary as "Snapchat will suffer great or irreparable injury if plaintiff [Mr Brown] is permitted to disclose Snapchat's confidential information to the public".
According to the filing, the news publication Business Insider had released what it described as "leaked videos" of depositions that were considered confidential in a continuing court case between Mr Brown and founders of Snapchat, Evan Spiegel and Bobby Murphy.
In one of the videos Mr Spiegel is asked who came up with the idea for "deleting" picture messages. He said that it was Mr Brown's idea.
Mr Brown's lawyers intend to file a response to the restraining order, reports Reuters.
This the latest stage in the court case brought by Mr Brown against Mr Spiegel and Mr Murphy.
Mr Brown is suing Mr Spiegel and Mr Murphy claiming that he came up with the idea for an instant messaging photo app. He claims he shared it with Mr Spiegel and Mr Murphy when they were all students at Stanford University but was then "excluded from all participation, profit and interest" in the partnership.
Snapchat recently turned down a $3bn (£1.8bn) acquisition offer from Facebook, according to the Wall Street Journal.
Created in 2011, Snapchat raised more then $60m from investors in June 2013, which valued the company at more than $800m.
The app is very popular with teenagers but concerns have been raised over several hacks that allow users to save snaps, posing potential privacy issues.