German police develop app to identify neo-Nazi music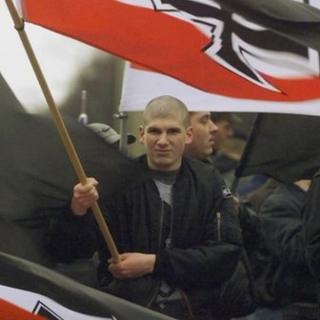 German police have developed a smartphone app that allows them to identify rock songs with neo-Nazi or racist lyrics.
Ministers will meet this week to discuss whether to implement the new method, Der Spiegel reports.
Neo-Nazi music is a growing problem in the country, with the government saying it aids the recruitment of young people into extremist groups.
The German constitution prohibits Nazi glorification.
The app, developed by the regional police office in Saxony, recognises the "audio fingerprints" of neo-Nazi rock music.
It has been dubbed "Nazi Shazam" in reference to the music identification service Shazam, which identifies song titles from a short sample using a smartphone microphone.
It could be used by police to recognise such music being played on internet radio stations or gatherings.
Last year the Federal Review Board for Media Harmful to Minors identified 79 pieces of music with neo-Nazi or racist lyrics.
There are questions about whether such a system could be widely implemented though.
If lawyers deem the automatic identification of music being played in a public place to be audio surveillance, it is unlikely to be allowed under German law, according to the report.