French court orders search firms to block pirate sites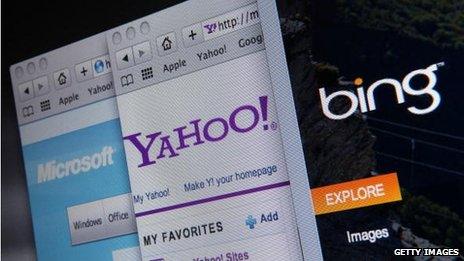 A court in France has ordered Google, Microsoft and Yahoo to block 16 video-streaming sites from their search results.
The case was brought by five groups representing film companies, distributors and producers.
The High Court in Paris ruled the websites were dedicated to the "distribution of works without consent of their creators".
Several internet service providers were also ordered to block the sites.
The two-year legal battle involved the streaming of copyrighted content on sites including allostreaming, Fifostream and dpstream.
The court said the sites broke French intellectual property laws and were "almost entirely dedicated" to streaming content without the owners' permission.
Google, Microsoft and Yahoo must now take measures to ensure the blocked pages cannot be found in a list of search results.
ISPs, including Orange and Bouygues Telecom, will also have to prevent users from being able to access the sites.
In a statement, the groups representing the rights holders said the ruling "recognised the merits of the approach [of] forcing ISPs and search engines to cooperate with right holders in the protection of the law of literary and artistic property on the internet".
Some of the companies involved in the case told the court blocking the streaming websites was unworkable as users just created new sites under a different name and used forums to tell each other where pirated content could be found.
Google said it was disappointed with the court's verdict.
"We are committed to helping content owners fight piracy across Google's tools, and we will continue to work with them so that they can make the best use of our state of the art copyright protection tools," the company said in a statement.
The Motion Picture Association (MPA), which represents six major Hollywood studios, said it welcomed the outcome of the court case and that search engines had a responsibility to help users get a "high-quality viewing experience".
"Search engines are incredibly skilful, yet they are still leading consumers to illegal money-making sites even when the searcher is seeking legal content online," said Chris Marcich, president of MPA in Europe, Middle East and Africa.
"The present situation is confusing for consumers, damaging the legal download market and legitimising copyright theft. The decision in France clearly is a step in this direction."
The search companies and ISPs have two weeks to implement blocking procedures.
In a separate case in Ireland the Irish subsidiaries of Sony Music, Universal Music and Warner Music will appear at the High Court on Monday.
They will ask the court to order five of the country's largest ISPs to block access to the file sharing site Kickass Torrents.