PlayStation 4 'starting to sell out'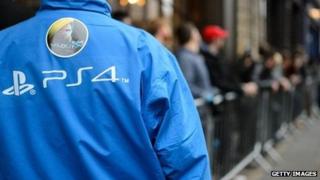 Sony's PlayStation 4 was launched in the UK at midnight and is already "starting to sell out".
Fans camped overnight for a chance to get their hands on one of the consoles.
The first-come first-served launch was considered one of the only ways for people to get hold of a console before Christmas.
Amazon said customers who had not pre-ordered before 13 November would not receive a console in time for Christmas.
The UK launch comes two weeks after the PS4 was launched in the US and a week after Microsoft's Xbox One was launched worldwide. Both consoles sold over a million in the first 24 hours.
In a statement to the BBC a Sony spokesman said: "We are starting to sell out - very rapidly but [we] will continue to work with all parts of the supply chain including our partners at retail to get more, as and when we can."
The company said it was facing "unprecedented" demand and it would be setting up a stock-tracker website to help customers find "those elusive units".
The launches are seen as a fight for dominance in the key Christmas season says the BBC's technology correspondent Rory Cellan-Jones.
Imran Choudhary was the first in the queue outside the venue in Covent Garden, London.
"It was always my goal to try and be one of the first people in the country to get hold of a PS4," he said.
Online scams
The chief executive of Sony's computer entertainment division, Andrew House, said: "We are trying to create a much more social and connected feeling. The whole goal of PlayStation 4 is to connect people via play, in a way that they maybe have not had before."
Customers who had placed online pre-orders with Amazon before 6 August were given the option of receiving their console on release day.
Anyone ordering after 14 November will have to wait until after Christmas for delivery, the company said.
The console was sold out on Game's website and only people who had paid a deposit when pre-ordering were guaranteed to receive a console before Christmas.
Customers have been warned to be careful of online scams involving consoles. NetNames, a company which advises brands on protecting their online reputation, said it had seen an increase in marketplace websites offering cheap consoles, sometimes in countries where they have not yet been launched.
"To avoid falling victim to the latest online scams, consumers need to remember that if the price seems too good to be true, it probably is," said NetNames product director of brand protection, Haydn Simpson.
Both the Xbox One and the PlayStation 4 have suffered problems after their launches in the US and worldwide.
Users of the Xbox One reported that the console's disc drive made a loud noise when they tried to insert a disc and in some cases couldn't read discs at all. Microsoft responded by offering a replacement console and a free game download to anyone affected by the problem.
Sony published a troubleshooting guide after some users complained that a blue light continuously flashed on the front of the PS4 console affecting its operation.