Global launch for Microsoft Xbox One console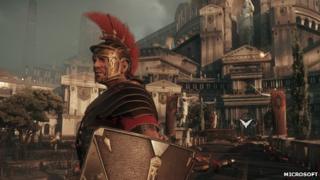 Microsoft's Xbox One game console went on sale in the UK at midnight.
About 300 game shops and 100 Tesco stores across the UK stayed open so gamers could buy the device.
Microsoft held launch events in London, New York and Los Angeles to mark the arrival of the successor to the Xbox 360.
The launch comes a week after the US launch of Sony's PlayStation 4 and sees the two start their fight for dominance during the key Christmas season.
No advantage
Although the PS4 launched first in the US, it will not go on sale in the UK and Europe until 29 November. By contrast the Xbox One went on sale in 13 countries on Friday, 22 November. Neither console is set to be available in Japan until 2014.
Marc Whitten - and chief producer officer, Xbox One, told the BBC Microsoft had experienced an unprecedented number of pre-orders for the Xbox, far exceeding those of the Xbox 360. "I feel very very good about where we are. Today's launch is just the beginning of an amazing journey."
Launches are typically staggered so console makers keep manufacturing costs down, to give makers time to translate content into different languages, and to ensure deals covering what media can be seen on the gadget are in place.
In the UK the Xbox One is expected to cost about £429 (514 euros) and the PlayStation 4 £349 (418 euros).
The more expensive Xbox includes a bundled Kinect sensor that does a better job of spotting movement and hearing sounds than the first generation of the device.
Microsoft also has ambitions for its console to act as a hub for anything seen on a TV, and the device can act as a controller for cable and satellite set-top boxes. Microsoft's Skype net calling system is also integrated into the device.
The technical specifications of the two devices are broadly similar and the graphics on games are much improved on the preceding generation of consoles. Experts suggest that Sony's PS4 has the edge on graphics and early reports revealed that two games - Battlefield 4 and Call of Duty: Ghosts - would play in higher resolution on the PS4.
Both consoles attempt to round out the social side of gaming, giving owners tools and services that let them play with or against friends or find opponents online.
"If history has anything to say about it, core gamers tend to favour Sony," said Brian Blau, research director at analyst firm Gartner. "There is nothing I've seen to say that one platform is going to have an advantage over the other."
Rob Crossley, associate editor of ComputerAndVideoGames.com, called Microsoft's build up to the launch "luckless and calamitous" because it had had to drop features, such as restrictions on used games, that had been widely criticised.
"With Sony's PlayStation 4 being such a similar device and £80 cheaper, Microsoft will face significant challenges convincing shoppers that Xbox One is the smarter investment," he added.
In 2013, Microsoft and Sony face a very different games market than that seen when the Xbox 360 and PS3 were launched. The past few years have seen the rise of indie and casual games, a renaissance in PC gaming and the emergence of rivals such as Valve, which is preparing its own gaming gadget.