Prime Minister's Twitter account followed 'high-class escorts'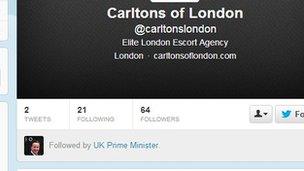 Prime Minister David Cameron appeared to accidentally follow a high-class escort agency on Twitter.
Number 10 told the BBC the account had been followed due to an automated system they had in place in 2009. It said it was in the process of unfollowing "inappropriate" accounts.
Carltons of London's website said it offered the "finest London escorts to gentlemen of distinction".
Downing Street said "following" did not imply the PM's endorsement.
Gordon Brown and Labour were in power when the automated system was put in place.
It is the latest embarrassing social media incident that has involved Mr Cameron in recent weeks.
Last month an offensive tweet about foreign secretary William Hague was accidentally "favourited".
That instance was blamed on a mistake made by one of Mr Cameron's aides responsible for helping to run the account.
In relation to the escort agency, Number 10 told the BBC the following was unintentional.
"Prior to 2010, an auto-follow process was used, meaning that @Number10gov automatically followed anyone who followed the account.
"This was common practice at the time for many corporate accounts, but was discontinued in 2009.
"As a result of this legacy, the @Number10gov account follows almost 370,000 accounts and we have taken steps to un-follow as many as possible that are inactive, spam or inappropriate. This work is ongoing."
The BBC could not reach Carltons of London on Wednesday.