McAfee sued by daughter of dead Belize neighbour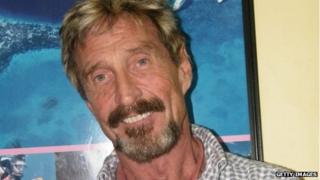 Anti-virus software pioneer John McAfee is being sued by the family of Gregory Faull, his neighbour in Belize who was found shot dead last November.
The legal action alleges Mr McAfee either committed the murder himself or ordered the killing.
Mr McAfee went on the run after the death, but said he had "no connection whatsoever" with the killing.
Belize has classed him as a "person of interest" but has never named him an official murder suspect.
Two of Mr McAfee's former girlfriends are also named in the action as "possible agents" in Mr Faull's death.
Gary Roberts, a Florida-based lawyer acting on behalf of Mr Faull's daughter, is seeking a jury trial and more than $75,000 (£46,800) in damages from the "wrongful death lawsuit".
Mr McAfee said that he had not received the legal papers yet, but would not fight a subpoena to give out-of-court testimony ahead of a possible trial.
"Would I answer questions in a deposition relative to the murder? Of course, absolutely. That's the requirement of law," he told the BBC.
But he added that he planned to file a counter-claim for defamation of character and personal injury.
"Why would they wait until I started a new company and have had all the press for the past month-and- a-half?" he asked.
"When I came back from Belize there was a great to do about the fact that I everything I owned I had left in Belize and that I was virtually broke.
"Recently I have stated that I now have money and am funding the development of a new company, and that I don't even need venture capital funds."
Mr Roberts said the case was currently being delayed by his firm's inability to deliver the paperwork.
"[We] are presently attempting to serve Mr McAfee with the complaint that has been filed in Federal Court," he said.
"However, process servers and investigators have been unable to locate him. If Mr McAfee is willing to be deposed in this case, then we respectfully ask him to accept service of this complaint so that this lawsuit can move forward."
Dead dogs
Mr Faull, an Orlando sports bar owner, had moved to live in his Belize holiday home on the Caribbean island of Ambergris Caye following his divorce.
He was found face-up with a bullet in his head by his housekeeper on 11 November 2012.
The previous month he had filed a complaint with the local mayor against Mr McAfee, alleging that the entrepreneur's dogs were "causing an unsafe environment for residents and tourists alike" and that his neighbour's security guards were also scaring people.
In the days following the filing, Mr McAfee found two dogs, which belonged to one of his girlfriends, poisoned, forcing him to put them down.
However, Mr McAfee has said he was not aware at the time of Mr Faull's complaint and had not suspected him of being the person responsible for feeding the animals a contaminated tortilla.
"I barely knew Gregory Faull," he told the BBC in an interview last month.
"The entire five years I was there, I'd said maybe 15 words to him.
"He did not like my dogs and the past two occasions I had seen him walking on the beach he complained. But so did everybody.
"There was no ongoing argument. Yeah, he was mad about my dogs. Maybe as I'm beginning to think now, maybe he was the one who poisoned them. At the time I certainly did not believe that."
Mr McAfee added that he went into hiding, eventually crossing the border illegally into Guatemala, not because he had been linked to the murder, but because he feared the Belizean authorities would take advantage of the case to keep him "in jail forever" since he had repeatedly accused them of corruption.
Mc McAfee - who has now returned to the US and lives in in Portland, Oregon - offered a $25,000 reward last December for information that could lead to the arrest and conviction of those responsible for Mr Faull's murder.
This was dismissed as a "hollow gesture" by the family.
"While continuing to grieve, the Faull family intends to pursue all possible avenues to ensure the individual or individuals responsible for the death of Gregory Faull are brought to justice," said Mr Roberts in a statement released to the Orlando Sentinel newspaper.
"They are confident that with the tools available in civil discovery cases in the US Federal Courts and with the information obtained in the criminal investigation in Belize, the true facts will come to light as to how and by whom Gregory met his end.
"In this manner justice can be served in both the criminal court in Belize and the civil court in the US."