Philippines: Rush to get Tacloban hospital online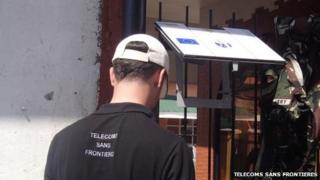 Aid organisations are rushing to bring internet connectivity to the general hospital in Tacloban, the Philippine city devastated by Typhoon Haiyan.
Telecoms Sans Frontieres (TSF) expected to be able to offer broadband speeds to 10 computers by Wednesday afternoon, local time.
The connections will be used by the hospital to communicate with medical workers in the field.
TSF said it hoped to bring connectivity to the wider area soon.
Initially, the non-governmental organisation will be using BGAN - Broadband Global Area Network - to connect to the internet via satellite. Doing so requires relatively lightweight receiving equipment that can be set up quickly.
TSF told the BBC that its priority was to bring internet access to the hospital so as to increase its readiness for incoming casualties.
"They have people who are turning up with various injuries, and pregnant women giving birth in the street because the beds are full," explained spokesman Alexander Thomas.
"The idea of the connection is to try and co-ordinate and make it a little less chaotic.
"The doctors in the hospitals will be able to keep in touch with the medical workers on the ground, so they know exactly how many patients are coming and what their needs are."
Eventually, larger satellite equipment will be installed in the area to increase capacity and speeds.
Connectivity challenge
TSF has rolled out similar technology in other crisis-hit areas, most recently at hospitals in Syria.
Internet access is increasingly being seen as a vital component in dealing with disaster zones.
In particular, using the web - especially on mobile devices - to create crowdsourced maps is effective in prioritising relief efforts and improving efficiency.
To aid with efforts in the Philippines, Google has launched a crisis map detailing the locations of evacuation centres, hospitals and other emergency services.
Another map - powered by UK-based group OpenStreetMap - goes into greater detail, offering information on drop-off points for supplies.
In order to help a large number of people access and contribute to services, mobile operators have deployed emergency networks using equipment specially designed for crisis situations.
Vodafone has set up its own network using hardware which is able to fit in four suitcases and is light enough to be carried on a commercial flight.
In a statement, Vodafone's group director for sustainability Andrew Dunnett said: "We hope it will not only provide much-needed network support for aid agencies, but will enable those people caught in the most devastated areas with no means of communication to connect with their loved ones outside of those areas."
Follow Dave Lee on Twitter @DaveLeeBBC