Justin Bieber-backed selfie app Shots of Me launches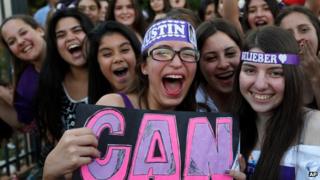 An app designed solely for sharing "selfies" has been launched, financially backed by pop star Justin Bieber.
Shots of Me is looking to capitalise on the craze in which people hold their smartphones at arm's length to take a picture.
The app is developed by RockLive, a company that has also been backed by boxer Floyd Mayweather.
Bieber is the latest in a line of celebrities investing in social media.
RockLive chief executive John Shahidi told technology news site TechCrunch that the 19-year-old had been attracted to the service after being a "bit annoyed" by other platforms.
Bieber, like many other celebrities, receives a large amount of abuse from people on social networks who are not his fans.
RockLive told TechCrunch that the app would take on rival photo-sharing site Instagram's target audience, but without mundane pictures of "coffee or salad". It is currently only available on Apple's iOS platform.
Bieber is understood to have contributed the "majority" of a $1.1m (£691,000) funding round.
Celebrity backers
Investing in technology companies has become something of a status symbol for many celebrities.
Ashton Kutcher, one of Twitter's earliest high-profile users - the first to reach a million followers - has backed a raft of firms. His portfolio includes the likes of property rental service AirBnB and Summly, the news aggregation app recently bought out by Yahoo.
But many celebrities active on social media have been tempted to back their own alternatives in order to create something of a safe haven - but it does not always go quite to plan.
In September last year, comedian and writer Ricky Gervais declared there were "too many idiots" on Twitter, and that he would leave the service in favour of his own network, Just Sayin'.
However, the app has failed to garner significant popularity, and has not been updated since March. One recent user review said: "How this as a concept ever got the green light to go ahead is beyond comprehension."
Former UK MP Louise Mensch launched her own Twitter-like network in June 2012 - called Menshn - but it closed down less than a year later.