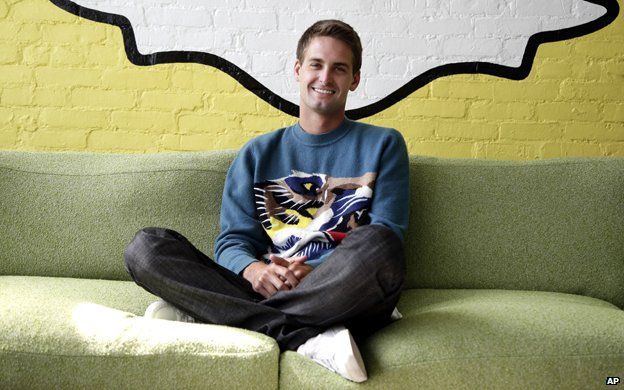 He's 23, he dropped out of Stanford, and his start-up is backed by some of the biggest names in Silicon Valley venture capital. Evan Spiegel, founder of Snapchat, could be the next dotcom billionaire from central casting - but only if he's right that people will pay for a social media experience.
Snapchat - for those of you who are over 25 - is a wildly popular mobile app that lets users communicate by sending each other photos which automatically delete after a few seconds. When Evan Spiegel visited London this week - his first time in the UK - he came and gave me a demo.
His app was only launched in September 2011, and while he is not giving out any numbers, he says it is now on a quarter of all UK smart-phones, which means as many as seven million British people may be Snapchatting. I'm definitely not the core demographic and I struggle with the idea that my friends would want to click on a picture of the coffee I'm drinking.
But Snapchat's founder says the idea of "ephemeral media" - social interactions that did not leave a trace online - is very powerful, and so it has proved. Spreading the idea was hard in the first few months. I assumed his fellow students would have been the guinea-pigs but he tells me, "everyone at Stanford is making an app", so they weren't that keen on helping him. (Does anybody ever finish their degree at the Californian university?)
But it was in schools where it did take off early in 2012, with teenagers rapidly learning that it was better than social networks for talking to friends without the whole world prying in. That pattern has led to two common assumptions about Snapchat - that its prime use is for "sexting", the sending of explicit pictures between teenagers, and that it poses a major threat to Facebook.
Evan Spiegel shows he is already the practised diplomat in dealing with both issues. "It is really easy to jump to that conclusion" he says about sexting, while the data suggests that Snapchat is being used all day, in a wide variety of contexts, and much of the traffic is between women users.
Facebook briefly spooked the markets last week when its chief financial officer revealed that younger teenagers were spending less time on his network. But when I ask Mr Spiegel the "Facebook killer" question, he tells me "we really admire what Mark (Zuckerberg) is doing", and says there is plenty of room for both forms of communication.
And indeed a recent study by Enders Analysis shows that the impact of messaging apps like Snapchat and WhatsApp on Facebook may be somewhat exaggerated. Its research did show more than eight million people using mobile messaging apps in the UK, with nearly half of all those between 16-24 using them daily. But it also revealed that Facebook was still dominant in this age group, with 70% using it on their phones every day.
But the question I want answered is how Snapchat plans to make money. I'd expected two responses from Evan Spiegel - that his firm is still intent on building its audience rather than worrying about revenues, and that when it does think about a business model it will be based on advertising. I am wrong in both cases - building revenues is now a priority, and the aim is to earn money from users rather than advertisers.
While refusing to go into details - "we don't want to spoil the surprise" - he outlines a plan to get users to pay for added value services. This seems an unlikely proposition - Facebook and Twitter have relied almost exclusively on various forms of advertising as revenue sources, and it's unclear that users who have grown accustomed to a free service can be persuaded to pay for extras.
But Evan Spiegel is looking to China rather than other Silicon Valley outfits for inspiration - he points to the success of WeChat, owned by Tencent: "They grew their business in the absence of a brand advertising market so they had to do it through in-app transactions and gaming services and they're now generating 90% of their $2.5bn (£1.6bn) a quarter through in-app transactions."
He goes on to outline a theory that social media businesses like Facebook and Twitter are seen as utilities, and therefore people will not pay for them, while apps like Snapchat are entertainment products and "people pay a lot for entertainment".
The question must be whether you can successfully monetise an app that is almost exclusively used by young people who probably have little spare cash. Remember how much excitement there was about the way the BBM messaging service was enabling Blackberry to reach a whole new demographic?
BBM has millions of users and is now out on the Android and iOS platforms, but it has failed to arrest the decline of Blackberry.
Still, Snapchat has obviously tapped into a mood amongst a new digital generation that is more concerned with communicating everything to just a few close friends than telling the world their business on Facebook or Twitter.
That kind of idea with that size of audience always attracts interest from predators - YouTube and Instagram were each swallowed by Google and Facebook respectively when they were just a year old.
When I suggested that Facebook might try to buy the business there was nervous laughter from Spiegel and his PR advisors - and he insisted that he was staying independent.
A few hours after our meeting, reports emerged that Snapchat had turned down a bid from Facebook valuing the business at $3bn.
But don't be surprised if someone else comes dangling a multi-billion dollar offer for the business quite soon.
And maybe in the ephemeral world of hot new mobile messaging apps, Evan Spiegel would be best advised to grab it before it disappears.