Virgin Media prices and broadband speed will rise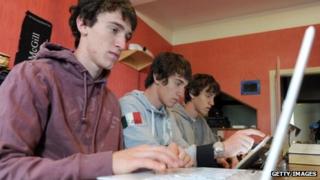 Virgin Media broadband customers will see bills rise by 6.7% from February.
The company said the price rise would allow it to remain competitive and provide value for its customers.
And it would at the same time begin a rollout to 12.5 million homes served by its fibre-optic broadband service of speeds up to 152Mbps.
That rise, from 120Mbps, would allow users to download a high-definition (HD) film in less than four minutes and a music album in four seconds, it said.
The company said it was also working to increase the speed of other broadband services by up to 20Mbps.
"This is probably the last time that customers will have to take this kind of price hike on the chin," said Dominic Baliszewski, from website broadbandchoices.co.uk.
"New rules from Ofcom governing mid-contract price rises will come into effect from early 2014, forcing providers to give customers the opportunity to cancel their contract without financial penalty if they increase prices during their contract term."
Virgin Media's chief executive officer Tom Mockridge said: "As people connect more things simultaneously to the internet more often, they need powerful broadband with the bandwidth to deliver a great experience for everyone in the home."
Mr Baliszewski added: "For example, 10 people could all be watching HD video content separately without experiencing any buffering."
According to Ofcom, the industry regulator, the average residential broadband speed across the UK is 14.7Mbps. But this increases to 43.6Mbps where the user is connected to the fibre-based network.
The latest figures show 19% of homes have taken up a superfast service, with speeds of 30Mbps.
BT has previously announced their broadband customers will face a price rise of 6.5% from January 2014.