Internet Archive building damaged by fire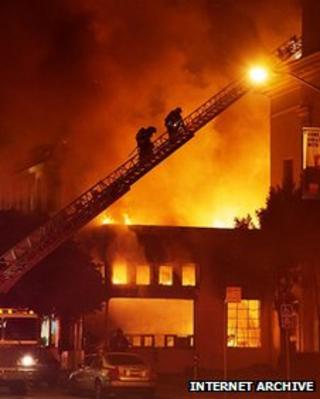 The non-profit organisation behind the Internet Archive has made a plea for donations following a fire at its building in San Francisco.
The group runs the popular Wayback Machine, an archive of 364 billion web pages, designed to show people what sites looked like in years gone by.
No data was lost, a spokesman said, but the damage was estimated at $600,000 (£373,000).
He said: "It is in difficult times like these that we turn to our community."
On the group's blog, founder Brewster Kahle wrote: "This episode has reminded us that digitising and making copies are good strategies for both access and preservation.
"We have copies of the data in the Internet Archive in multiple locations, so even if our main building had been involved in the fire we still would not have lost the amazing content we have all worked so hard to collect."
However, the fire did cause the loss of some materials that were being prepared for digitisation - the full extent of which is still being assessed.
'The web's backup'
The Internet Archive was founded in 1996 with the intent to store the world's digital content, such as web pages, music, moving images and e-books.
In October last year, the group announced that it had stored more than 10 petabytes - 10 million gigabytes - of information.
As well as the Wayback Machine, the group also runs other archiving schemes - such as TV Search and Borrow, a collection of US national news programmes that can be obtained, for free, on DVD.
The Internet Archive system was praised recently for allowing access to US government websites that were knocked offline thanks to the federal government shut-down last month.
Thanks to the fire, the scanning centre in San Francisco will need to be either heavily repaired or rebuilt, Mr Kahle said.
In the meantime, as well as donations, the group is seeking help in setting up scanning operations in different locations.