Dark net marketplace Silk Road 'back online'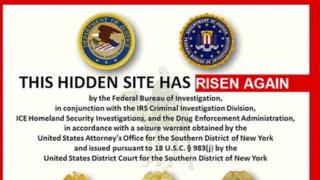 Reports suggest that the Silk Road, the anonymous marketplace that traded in drugs and other illegal goods, is back online, in a new version.
According to AllThingsVice, a website that monitors the so-called dark net, the new site is already selling a wide range of drugs.
The first version of Silk Road was shut down by the FBI in October and its alleged administrator arrested.
But those behind it always vowed to revive the site.
The new administrator of the revived site has adopted the same handle as the previous operator - Dread Pirate Roberts.
The FBI believe that arrested 29-year-old Ross Ulbricht was the mastermind behind the original site. Mr Ulbricht has denied all charges
Big business
The twitter feed for Dread Pirate Roberts reads: "#SilkRoad has lift-off".
According to AllThingsVice, the new homepage reads "This Hidden Site Has Risen Again", parodying the US Department of Justice notice, which read "the hidden site has been seized".
Twitter was buzzing with talk of whether the new site was a genuine replacement or a scam. Others asked how long it would take before it was closed down by the FBI.
According to Ken Westin, a researcher with security firm TripWire, the site looks genuine.
"It appears to be run by the same folks that were running it before," he said.
"They are not going to be able to kill it. It is going to be a game of cat and mouse with the FBI," he added.
Etay Maor, a fraud prevention manager with security firm Trusteer, and an expert on the dark net, said it was anyone's guess how long it would last.
"It could be 24 hours or it could be a year."
But with the Silk Road banking over $1.3bn (£810m) in two years from taking a percentage of sales, he is not surprised that it may be back online.
"It is big business and those behind it want to get it back up," he said.
Worst things
In the aftermath of the Silk Road shutdown, alternative dark net marketplaces saw huge increases in traffic.
One, dubbed Project Black Flag, closed down shortly after launch, with the founder Metta Dread Pirate taking the Bitcoin currency accumulated on it with him.
He wrote on the site's forum: "I am sorry for my actions, but with the funds I gathered from the site, I will be able to keep myself from being homeless for the next several months".
But there were plenty more, said Mr Maor.
"The Silk Road was the biggest and everyone knew it, but it is scary the amount of sites on the dark net.
"From selling weapons to money collection for jihadist groups. You name it - the worse things you can think of, it's all there," he said.