Netflix tests 'ultra high definition' 4K video streams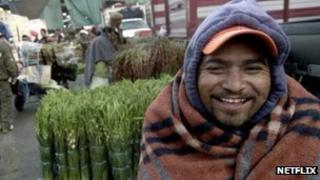 Netflix, the TV and film streaming service, has started testing "ultra high definition" video.
Also known as 4K the technology offers four times the amount of detail as 1080p high-definition content.
Netflix said it plans to offer the first titles in 4K to customers next year.
But some analysts question whether broadband speeds in the UK are fast enough to cope with ultra high definition streaming.
"Average broadband speeds in the UK are 7.6 megabits per second, you would need to have at least double that speed to watch 4K reliably on a streamed basis," says IHS broadband analyst, Richard Broughton.
"Currently only 15% to 20% of households have the speeds necessary."
Despite wide availability of broadband networks in the UK's towns and cities, only 4.8 million customers are taking advantage of "superfast" speeds, defined by Ofcom watchdog as 30Mbps or above.
Craig Nelson, spokesman for the Internet Service Providers' Association, told the BBC: "We think streaming of 4K TV services will require minimum broadband speeds of about 100Mbps to work properly, but only businesses, production houses and a limited number of homes currently have that kind of speed.
"A lot will depend on the compression technologies, or codecs, service providers use.
"The real hindrance won't be broadband speeds but the availability of screens."
Only a few manufacturers currently make 4K TVs and, as with all cutting-edge technologies, they are expensive. For example, Panasonic's 65in LED 4K TV costs £5,500, while Sony's equivalent costs £5,000.