Call of Duty: Ghosts launches ahead of new games consoles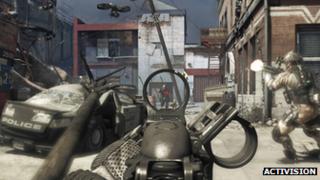 The creator of the latest Call of Duty video game has acknowledged that initial sales of the title are likely to be slower than last time round.
CoD: Ghosts launches weeks ahead of the release of Sony and Microsoft's new consoles.
As a result, Mark Rubin, studio head at developer Infinity Ward, said some gamers would wait for the new hardware to become available.
The previous game, CoD: Black Ops II, made $1bn (£630m) within 15 days.
By the end of last year, more than 2.6 million copies had been sold in the UK alone - nearly double the number of tickets bought for the Avengers Assemble movie - making it the country's best-selling entertainment release of 2012.
"Next-gen has historically created a bit of a challenge for all games from a numbers standpoint," Mr Rubin told the BBC.
"It's definitely something we're aware of. I know talking to a lot of people, figuring out what they're going to buy is a problem.
"I think it will be spread out a little bit - it's harder to do the day-one [sales]... but I think we're in a good spot."
He added that to encourage early take-up, publisher Activision was offering purchasers of the Xbox 360 and PlayStation 3 games discounted copies of the Xbox One and PS4 editions if they upgraded within a time limit.
The launch is publisher Activision Blizzard's first since it gained its independence by using debt to buy most of French firm Vivendi's shares in the business.
Dog play
Ghosts is the first game in a new story arc, set in 2023 - a future in which much of the US lies in ruins after an attack by a space weapons system. In the single-player campaign, players take part in a military unit attempting to lead a fight-back against a new South American superpower.
It is being released just over a decade after the first CoD game went on sale. As part of efforts to keep the franchise fresh, Infinity Ward has added features not available before.
These include:
the ability to alter the landscape, changing available pathways and sightlines
new multiplayer Squads modes, which allow players to create a customised team of soldiers that can be pitched against other groups of human and computer-controlled characters
the chance to play as a German-shepherd dog
Gameplay in both the current and next-generation console editions is similar, although the latter promises superior graphics and the ability to have more people involved in multi-player battles.
"Early adopters of consoles will want a game that impresses visually," said Michael French, publisher of games trade magazine MCV.
"The games don't have to be 100% original. Eventually over time the audience will want something new - the big franchises will have to either take some time out or totally reinvent themselves.
"But for those buying close to day one, they just want something that looks better."
Ghosts will compete against Electronic Arts' recently released war game Battlefield 4 - which has won praise for its large-scale multiplayer maps - and its highly anticipated sci-fi shooter Titanfall, which has been developed by several former members of Infinity Ward.
Different resolutions
Mr Rubin caused surprise last week when he revealed that only the PlayStation 4 version renders Ghosts in full 1080p high-definition video.
The Xbox One and Nintendo's Wii U consoles will deliver 720p graphics - half the resolution - despite the fact they can support the higher-quality format.
"We did what we could to make sure each platform looked as good as it could and that it performed," Mr Rubin told the BBC.
"One of the key pillars of Call of Duty has been 60 frames per second... and ensuring that was of utmost importance, and the resolutions that appear are geared around that."
The PS4 and Xbox One are both powered by customised chips from the same manufacturer, AMD - however, Sony's machine has more cores in its graphics processing unit (GPU) and uses faster, albeit more expensive, RAM memory.
However, Mr Rubin did not rule out future CoD titles running in 1080p on Microsoft's machine.
"It don't think it's the case that the Xbox One definitely can't do it - I just think that we need time to get there.
"It's a normal thing when new platforms come out that the first games are trying to find their feet.
"An analogy I use is that it's like an awkward first date - you're still trying to figure each other out.
"There's enormous amounts of work ahead of us in perfecting our game engines on both platforms."