Wedding tech: Ideas for a 21st Century ceremony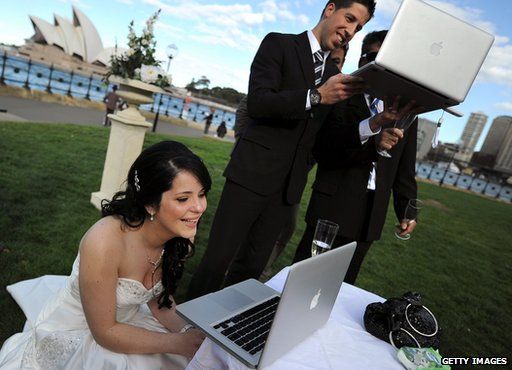 Anyone taking a casual stroll around the average wedding fair could be forgiven for thinking that here is a ceremony whose technology has not been updated since the days of Jane Austen.
When you consider that the industry is worth more than £10bn a year in the UK alone, you would think the tech giants would be eager to give it a makeover.
Instead it is smaller-scale pioneers who are making the in-roads into a sector where tradition still reigns supreme.
The BBC asked bride-to-be Ella Williamson to discover how hi-tech a wedding can become.
Over the past year, fashion and technology have fused like never before.
We've seen the model Dita von Teese step out in the world's first 3D-printed dress and singer Nicole Sherzinger perform in an outfit showing tweets via LED lights threaded into its fabric.
So, is it possible to purchase a bridal gown that displays well wishes from loved ones?
CuteCircuit, the company behind the Twitter Dress, confirms it would take on such a commission. But its chief creative director suggests a more subtle concoction.
"We have made wedding outfits using conductive silver fabric that create a connection when the marrying couple kiss, triggering a private message on the linings of their garments," says Francesca Rosella.
The time-honoured ritual of wearing a hat to a wedding has undergone a technological revamp too.
Belgian 3D-printing firm i.materialise dabbled with headwear when it launched a millinery competition for designers last year.
It now offers two services for creating bespoke headgear - collaborate with one of the company's recommended designers or alternatively design your own and then have it made in the lab.
The company's community officer, Tatiana de Wee, adds that 3D-printed "wedding rings, engagement rings and wedding cake toppers" are available too.
Merging the virtual world and the real world is an innovative way of getting guests to save the date.
So, printing firms have started to offer augmented-reality-enhanced products, allowing invitations to come to life.
The process is straightforward - record a one-minute video and send the MP4 file to the company to incorporate it.
By holding a smartphone or tablet over the card, the guests can then view a personal message from the bride and groom.
Advocates for the tech have claimed it has been about to take off for years - but one of the businesses involved insists the wedding industry is ripe for an AR revolution.
"After a slow start 18 months ago, augmented reality printing is now proving popular thanks to increased smartphone ownership, 4G networks and advertising campaigns," Chris Hughes, managing director at Stuprint.com, tells the BBC.
No tech wedding is complete without at least one robot.
At least Japanese couple Tomohiro Shibata and Satoko Inoue thought so. Their ceremony in 2010 was conducted by i-Fairy, a £46,000 robot by Kokoro.
But in 2014, getting married by an automaton should become more affordable thanks to the launch of Oscar the WeddingBot.
Oscar is a 2ft (61cm) robot intended to be an officiant, pageboy, usher or speech giver.
It uses an Arduino computer as its brain, features a text-to-speech module to talk and a high-definition video camera to see, while the hands were salvaged from a broken Kinderbot toy.
"After I completed my first home-made robot in 2012, my friends Mark and Sarah joked about having him at their wedding," says Minneapolis-based inventor Jon Shmig.
"I told them I'd make a custom robot and as the list of features expanded I realised that other people may be interested in his services."
A prototype was used as a ring bearer at a ceremony in August, and Mr Shmig says he hopes to make the final version available for hire in the US early next year.
He adds it will be able to move in time to music - so, be careful that he doesn't cut in to your first dance.
With 50,000 downloads in eight weeks alone, Brazil's Boyfriend Tracker app has shown many people want to know their partner's movements. The software secretly sends GPS location and SMS updates about a handset's whereabouts.
This begs the question - when will a GPS chip-enabled wedding ring come to market?
US engineer Benjamin Kokes has created an engagement ring for his fiancee that features embedded LEDs that illuminate when in close proximity to a specially designed transmitter.
But he has doubts about adding a Find My Spouse feature.
"I would not rely specifically on GPS - with current technology you couldn't pack enough battery into the ring to have any useful operation," he says.
Instead he suggests including a radio frequency identification (RFID) tag, which could be detected by strategically placed reader units.
For less suspicious but more forgetful nearly-weds, Alaska Jewelry is developing the Remember Ring.
The piece of jewellery, which is still at the concept stage, promises to self-heat 24 hours before your anniversary as a reminder.
A built-in micro-thermopile would convert the heat from the wearer's hand into electricity to keep its tiny battery charged and its clock running.
"We've received quite a bit of interest," says Alaska's Cleve Oines.
"But we probably would not launch a GPS ring as GPS trackers and wedding rings are on opposite sides of the sentiment spectrum."
If gadget shopping has left you little time to plan the rest of the celebrations, the web can again come to the rescue.
American wedding planner TheKnot.com held what's thought to be the first crowdsourced wedding in New York on Valentine's Day this year.
Members of the public voted online to select each element of the day - from the outfits to the Modern Ice Castle wedding theme.
And if that doesn't sound ideal, you can always Photoshop the pictures.
Related Internet Links
The BBC is not responsible for the content of external sites.