Twitter photo tweak wins cautious advertiser welcome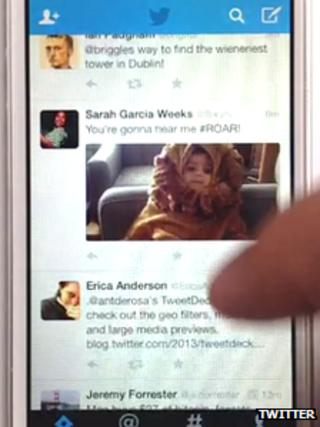 Twitter has redesigned the way posts to the social network are displayed to allow images and video previews to be shown in its timeline feed.
Previously users had to click on a link to see the associated media.
The move coincides with efforts by the company to promote itself to investors before the flotation of its shares.
The move may help it compete for adverts against other services. But the news was only given a cautious welcome by one industry insider.
"More pictures and video should mean more engaging content, which could in turn be good news for advertisers," said Bob Wootton, director of media at Isba, a body that represents British advertisers.
"But what is pivotal here is whether the redesign makes for a good user experience."
Twitter suggested the move had benefits beyond promoting company brands, and described its new look as "more visual and more engaging".
Photos and screenshots belonging to videos posted to its Vine network now appear in oblong boxes, which expand to fill much of the screen when tapped or clicked on.
The change is being applied to the US company's iPhone and Android apps, as well as to its web-based service.
"This will enable Twitter to run more traditional picture-based adverts in users' newsfeeds, boosting potential revenue growth in the run up to flotation," said Ian Maude, of media consultancy Enders Analysis.
"Of course, with any such move there's a risk of a backlash. In this case people will see fewer tweets on their screen at once. But we're all used to scrolling down through our feeds and I doubt there will be any major negative reaction."
TWTR ticker
The redesign is not the only advertiser-friendly change being pursued by the company before its share sale.
Twitter has also announced that it will introduce its Promoted Products service in South Korea this week.
The facility allows advertisers to purchase a tweet that is labelled as an advert, which then appears at the top of relevant search results. The company tries to ensure they are delivered to the most relevant people by analysing user behaviour on its network.
The service is already offered to advertisers in the US and the UK, among other countries.
Twitter has said it will price its shares at between $17 and $20, valuing the company at about $11bn (£6.8bn). That compares with the $100bn valuation Facebook received when it floated in May.
Trading on the New York Stock Exchange is expected to begin on 7 November under the ticker symbol TWTR.