'Slowdown' in resistant gonorrhoea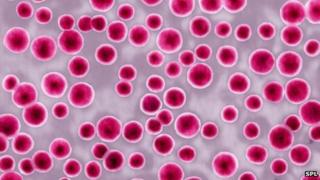 A "slowdown" in the emergence of drug-resistant gonorrhoea has been reported by Public Health England.
There is considerable concern that the sexually transmitted infection is becoming much harder to treat, with some countries reporting "untreatable" gonorrhoea.
New figures show falls in the numbers of cases resistant to some antibiotics.
However, sexual health experts warned "too many" people were still catching the disease.
The proportion of cases resistant to the antibiotic cefixime fell from 11% in 2011 to 6% in 2012.
Resistance to azithromycin increased marginally, from 0.5% to 0.7% of cases.
'Temporary reprieve'
Prof Cathy Ison, of Public Health England's gonorrhoea resistance surveillance programme, said: "Whilst the resistance data are better than expected, they can only represent a temporary reprieve.
"We must continue to be vigilant as multidrug-resistant gonorrhoea strains are being identified across the world and there are limited antibiotics in the pipeline.
"An ongoing focus on prompt gonorrhoea diagnosis, adherence to prescribing guidelines and the effective identification and management of potential treatment failures is crucial."
Overall the number of cases in England increased by a fifth, from 21,024 in 2011 to 25,525 last year. However, some of the rise may be down to better testing.
Lisa Power, of the Terrence Higgins Trust charity, said: "It's promising to see public health efforts and new prescribing guidelines beginning to make a dent on emerging gonorrhoea resistance.
"But these are very slight reductions and there's some way to go.
"Far too many people are still getting gonorrhoea, and they're often getting it repeatedly."