Ofcom reveals state of broadband and mobile in UK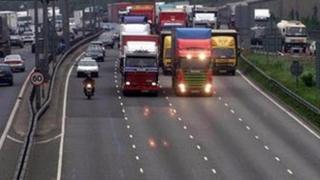 While superfast broadband is now available to almost three quarters of UK homes, getting a connection on Britain's roads is more tricky, according to a report from Ofcom.
Its annual infrastructure report looked at mobile coverage on roads for the first time.
While motorways have good 3G coverage, just 35% of the UK's A and B roads are served by all four mobile networks.
The report found that 9% of roads have no 3G coverage at all.
The latest trends in mobile and broadband outlined by the report are designed to give a snapshot of the UK's communications market.
Despite wide availability of broadband networks in the UK's towns and cities, only 4.8 million customers are taking advantage of superfast speeds, defined by the watchdog as 30Mbps (megabits per second) or above.
That equates to 22% of connections, up from 10% last year.
There are several reasons why consumers may be reluctant to upgrade, thinks Andrew Ferguson from broadband news site ThinkBroadband.
"The usual factors we encounter from consumers are resistance to any increase in price, and the £10 to £20 premium for faster services can deter many, particularly if paying under £10 for their broadband service now," he said.
"There are also a good number who after not getting speeds close to the advertised speeds previously are wary of upgrading for little or no benefit," he added.
The appetite for data is huge though - Britons use 650 million gigabytes in an average month, equivalent to more than one billion copies of the Encyclopaedia Britannica, according to the report.
Ofcom believes that there are two main factors contributing to this deluge of data - the fact that many households have lots of devices wanting to connect to the internet and the need for high-quality on-demand TV services.
Road and rail
Outside the home, people are also demanding more connectivity.
According to the report the number of public wi-fi hotspots in the UK has doubled from 16,000 to 34,000 over the last year. The amount of data being sent or received from these hotspots has almost trebled, to almost 2 million gigabytes a month.
Meanwhile 4G services continue to be rolled out by the UK's mobile operators.
As well as looking at coverage on the UK's roads, Ofcom is also looking at 3G services on railways although the results will not be released until next year.
"We know consumers increasingly expect superfast speeds, but it is also important to make sure people can connect over a very wide area. That is why we are doing everything we can to support moves to improve coverage in difficult areas such as roads and train lines," said Ed Richards, Ofcom's chief executive.