Soaring energy bills - can smart technology help?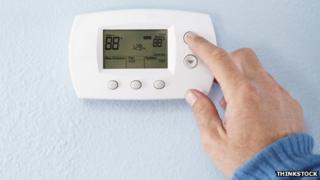 It is almost the definition of any groundbreaking innovation that it will disrupt a market and its existing players.
And if any market needs disrupting right now it is the business of supplying home energy. So two companies which are promising a technology solution that will cut our soaring energy bills should be knocking at an open door.
Both firms are in the business of smart thermostats, and they are making big claims about the savings they can offer. The more eye-catching product comes from a business started by a former Apple executive Tony Fadell, who played a big role in the development of the iPod and iPhone.
The Nest learning thermostat has the design flair characteristic of his former employer, and has been a big hit at various gadget shows over the last couple of years. The device, which has been on the market in the US for a year or so, gradually gets to grips with your daily routine, and adjusts the temperature accordingly.
The firm claims it can save up to 20% on your "heating and cooling bills", and it is known that there are plans to launch in the UK where presumably the accent will be on heating not rather than cooling. Right now, though, Nest is being very cagey about exactly when it will arrive. It seems that the product, advertised in the US as easy to install in about 30 minutes, may have run up against various UK building regulations, so the firm will need to establish a network of engineers to get Nest into homes.
So another firm with an established presence in the UK may have a better chance of making an impact. Honeywell's thermostats are already in millions of homes, though most people probably won't remember they've got one because it was installed with a new boiler by the plumber.
Now the company is launching something called EvoHome, which it describes as an intelligent wireless heating system, designed to allow you to set different temperatures in different rooms.
You have one central control panel, with a connection to your boiler, which then talks wirelessly to up to 12 sensors around your home. The whole system can be adjusted remotely via a smartphone app.
Honeywell is selling this as the most practical example yet of the trend towards smart homes - and it certainly looks a lot more useful than those internet-connected fridges we've been hearing about for so long.
But it won't be cheap - just a basic setup will cost £249, then you'll pay £77 for each extra room sensor, plus whatever an engineer charges to install the system. Honeywell claims however that the savings could be very substantial - a reduction of up to 40% in the cost of heating and hot water, which makes up more than 80% of the average household's energy bill.
The irony is that the bigger savings will most likely be in bigger homes with lots of unused rooms, the kind owned perhaps by people who are less likely to find it a struggle to pay rising energy bills. And that 40% claim looks pretty optimistic - if consumers find this and similar products deliver much less than than promised, then the reputation of this new industry will take a hit.
But energy efficiency has been the missing link in the UK's drive to cut carbon emissions. The government's main policy tool in this area is to introduce smart meters into all homes by 2020, but these will give information on energy use, without necessarily reducing it.
So there is plenty of time and room for all kinds of innovative ways of cutting consumption and bills to emerge. And perhaps the big energy firms will get in on the act, promoting intelligent thermostats - although asking companies to put effort into persuading consumers to use less of their product may be wishful thinking.