Adidas Micoach smartwatch has heart-rate sensor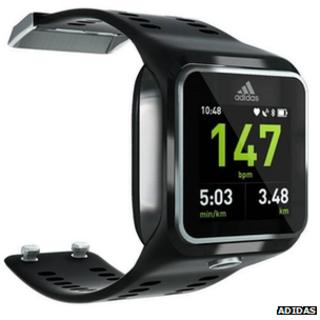 A watch with a colour touchscreen and built-in heart monitor that studies the wearer's pulse to create training programmes has been unveiled by Adidas.
The gadget - which is being targeted at runners - also includes a GPS location chip to maximise the accuracy of its readings.
It marks a move by the German firm into the smartwatch sector, although the device does not run third-party apps.
The news comes the same week as rival Nike updated its own activity tracker.
The two companies - which are best known for their sports clothing and shoe ranges - are taking different approaches with their flagship products.
At $399 (£350 in the UK) Adidas's Micoach Smart Run is more than double the price of Nike's $149 Fuelband SE. But it offers a wider range of sensors as well as the ability to play MP3 audio files to wireless headphones via Bluetooth.
It also has the advantage of offering partner apps for Android, Windows Phone and iOS devices. By contrast, Nike only offers a Fuelband app for the iPhone.
The US firm does, however, offer a separate Nike-branded watch made by the Dutch firm TomTom that features a GPS chip and can be paired with a heart rate strap made by another company.
Battery life
Adidas announced its new product at Gigaom's Mobilize conference in San Francisco.
It said athletes could use the watch to create a coaching programme to improve their fitness levels and would then receive feedback via animated graphics on its screen, vibrations, and audio commands - using paired headphones - telling them to speed up or slow down.
The new device is bigger than less advanced digital watches and screenless activity trackers also sold by Adidas, but its 1.45in (3.7cm) display is smaller than the screens on Samsung and Sony's new smartwatches.
The Galaxy Gear and Smartwatch 2 both offer a range of activity apps of their own as well as other Android software, but rely on being paired with a smartphone for much of their functionality.
Adidas says its product's battery lasts about 14 days when its tracking sensors are switched off. However, that drops to just four hours when it is switched into "training mode".
Motorola's Motoactv watch may be its closest competitor. The gadget also features a GPS chip and MP3 player, but not a pulse rate sensor of its own.
Killer app
Consultancy Juniper Research recently predicted the wider wearable tech market will grow from $1.4bn of sales this year to $19bn by 2018.
However, it suggested that sales of specialist fitness tracking equipment and watches that are, in effect, slaves to smartphones will be cannibalised by more powerful standalone devices.
"The products currently available in the market only appeal to a niche demographic, but as we move towards the age of a true multifunctional smartwatch we expect them to become more appealing," said its senior analyst Nitin Bhas.
"We believe players like Apple, Google and Microsoft will release devices that can act as a fitness tracker, as a digital wallet, as a way of offering ticketing and coupons, and all sorts of other things. To be honest, the market is still waiting for a killer app.
"There is an opportunity for Adidas here - but along with start-ups entering the wearable tech sector, it has a very narrow window and is likely to struggle as the marketplace becomes increasingly crowded."
Adidas said it would start selling the new watch next month.