EE rebuked over 'misleading' UK mobile coverage maps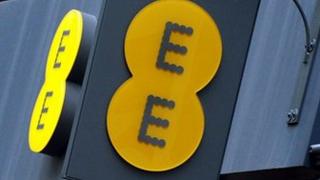 The Advertising Standards Authority has ordered EE to change its mobile coverage checker after a customer complained it had wrongly told him he would receive excellent service in his area.
The checker must make it clearer that it is only a guide, the ASA said.
The decision is likely to have an impact on other mobile operators offering similar maps.
Mobile coverage can vary widely from street to street.
It depends on a variety of factors, including the density of buildings and the number of trees in the area.
Amend language
Despite the fact that the EE coverage map has an addendum which states that it is "only a guide and not guarantee of service availability in a particular location", the ASA still felt the ad was misleading
Its ruling stated: "We noted that the claims under the coverage results were presented in language that was not conditional and consider the overall impression of the ad was such that it was likely to be understood to mean that fast reliable internet access and high quality calling was available... to consumers in the relevant postcode."
In response EE said: "The Coverage Checker offers a prediction of our network coverage across the UK. In this instance, we deemed coverage to be Excellent in the postcode as confirmed by testing that found over 98% of the postcode had an excellent signal."
"We take on board the ASA's ruling and will amend the disclaimer language as necessary," it added.
EE customers are given a 14-day cooling off period if they are not happy with the mobile service after signing a new contract.
Daily improvements
O2 also points out that customers have a seven-day window to cancel their service if they find it is not as good as expected.
"Our coverage maps are created on accurate predictions of the network, but unfortunately they can't always take into account a number of factors affecting signal like building structures and natural landscape," the mobile firm said in a statement.
"We're making daily improvements to our network and our coverage maps for 2G, 3G and 4G are updated to reflect these on a weekly basis."
Most operators have ambitious plans for 4G coverage, both indoors and outdoors, with most planning to reach around 98% of the population by 2017.
But it is notoriously hard to produce accurate mobile coverage maps. All the operators produce their own and use different metrics for measuring coverage. Some have called on Ofcom to produce its own coverage map, something that the regulator has rejected.
There are a few independent coverage maps available from firms such as RootMetrics and OpenSignal.
Matthew Howett, analyst with research firm Ovum said: "While the operator's own coverage checkers are usually very accurate, they don't all necessarily measure the same thing. For instance some might only be for outdoor coverage, whereas others will also give you an idea what you can expect indoors.
"Given these peculiarities, they are useful only up to a point for consumers when making comparisons between networks," he added.