Can Nike's Fuelband really motivate you to exercise?
By Kim Gittleson
BBC reporter, New York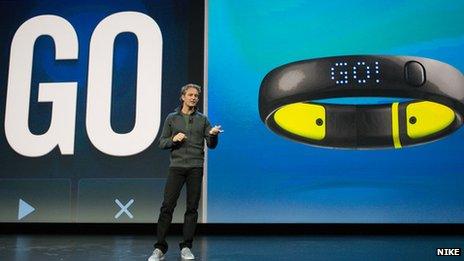 Nike says its new activity-tracking Fuelband SE will motivate people to exercise even more. But can a wristband really lead to better health?
Back in 2009, Nike vice-president of digital sport Stefan Olander and his team had an idea: what if a person could track how much they've moved in a day, just by glancing at their wrist?
And so, the Nike Fuelband was born.
Released in 2012, in a simple, sleek, black plastic design that flashed from red to green once a person's daily fitness goal had been met, the first Fuelband sold out in hours.
The pitch was this: by wearing a Fuelband and monitoring fitness data via an app or on the web, anyone - from a professional athlete to Mr Olander himself - could work out a better, more effective, path to health.
"In today's society, we are overwhelmed with complexity," says Mr Olander.
With the Fuelband, he says, Nike really tries "to filter out what doesn't matter and just give you what you need in order to stay motivated."
So what's different this time around?
Nike says that in addition to making physical improvements to the latest Fuelband - better waterproofing, stainless steel screws - it has also analysed the data from the first wave of Fuelband adopters to see ways in which the band and its supporting iOS app and website could be improved.
They found that 98% of their 20 million users exercised - but they didn't necessarily consistently move the recommended five minutes every hour.
Now, the wristband buzzes to alert its wearer if he or she hasn't got up in a while.
But Nike is not the only company experimenting with wearable technology - particularly as estimates about the potential growth in the industry range from $10bn to $50bn (£6bn to £31bn) in the next five years.
Competitor Fitbit recently released a new model, and Jawbone, iHealth, Garmin, Withings and Adidas are among other firms to offer dedicated fitness-measuring gadgets.
Samsung and Sony recently released a smartwatch that can monitor a user's steps, and even Apple - whose boss, Tim Cook, sits on Nike's board of directors - has expressed an interest in a device.
But beyond these gadgets, Nike's main competition might not be a rival band, but the smartphone.
"Smartphones are going to start doing more of the tracking, and more people have them already and don't have to buy separate devices," says Sara Watson, a fellow at Harvard University's Berkman Center for Internet and Society.
Already, there is a spate of apps - from MyMee to MapMyRun - capitalising on these built-in features.
'Endless amount of things'
Beyond the competition, there is also the basic question: can wearing a wristband really make you healthier?
"The notion of tracking itself has been around a long time - this is not something new," says Michael Kim, a former Microsoft Xbox executive who is now the head of Kairos Labs.
"The problem is tracking does not create new behaviour change - it tracks what you already do as a behaviour," says Mr Kim, whose firm works to help people cement their habits.
But some doctors say the bands can help those who are already interested in exercise better tailor their workouts.
"We have done a number of athletic performance tracking projects with people," says Dr Paul Abramson, a physician in San Francisco who uses tracking technologies in his practice.
"Things like the Fuelband or more complex versions of them can be very useful for people who want to exercise more."
Companies are also showing an interest in tracking sensors. In 2008 Bank of America equipped dozens of its call centre staff with special badges to study the way they interacted with each other as part of efforts to boost productivity.
One technology consultant suggested several firms were now interested in using fitness equipment as a way of encouraging their staff to bond.
"At a symposium event last week I was talking to a couple of companies that were trying to improve employee engagement, and there's some thinking that not only are healthier employees more productive but that their sharing of information about how much they are walking, how much they are riding etc is becoming the new 'water cooler' moment," says Mike Gotta from Gartner.
However, he cautions that managers should resist the temptation to see the gadgets as the human equivalent of the black boxes used by some car insurance companies to track driver behaviour.
"A few months back one firm made the news for saying: 'If you don't meet certain criteria we're going to charge you more per month for your healthcare.' That kind of behaviour could create a backlash," Mr Gotta warns.
"But if firms give these analytics to the employees for their own self-improvement and are relatively hands-off, then the workers will share the information themselves and that could create better relationships across teams."
Experts also note that gadgets like the Fuelband still have plenty of room for improvement. At present the measurements it captures are not always precise.
Rivals are attempting to address this by offering a wider range of sensors.
Withings, for example, has built a heart-rate monitor into its Pulse tracker; Polar's Loop carries out a similar trick by connecting its wristband to a separate accessory; Fitbit includes an altimeter in its new Force wristband to count the number of stairs climbed; while Motorola's Motoactv can be linked up with bicycle-fitted sensors that measure how fast the equipment is being pedalled and its speed of travel.
Sensors that measure skin temperature, perspiration and the electrical activity produced by muscles offer further opportunities.
"The fitness space has spawned a whole host of explorations of tracking devices in other areas," says Steve Dean, a partner at Prehype and a founder of the Quantified Self group in New York, which meets to discuss personal data tracking projects and technologies.
"It's almost like there's an endless amount of things that we can instrument on our body."
Related Internet Links
The BBC is not responsible for the content of external sites.