Supercell: Europe's supercharged games success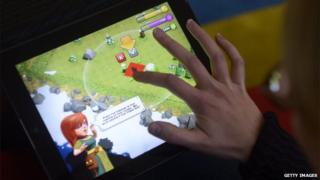 It is a Finnish company started in 2010, whose first products only emerged in 2011. You've probably never heard of Supercell, but on Tuesday it was valued at $3bn, making it the fastest growing technology firm to come out of Europe in, well, just about ever.
Supercell is a games business with just two titles, Clash of Clans and Hay Day, which until last week could only be played on Apple's iPhone and iPad. But they have grabbed a huge share of the mobile gaming market, leading the world in terms of revenue, ahead of giants like EA which has 829 titles to Supercell's two.
On Tuesday Japan's Softbank paid $1.5bn to acquire a 51% stake in Supercell. The telecoms firm is doing the deal in conjunction with its own gaming subsidiary GungHo, another major player in the new world of mobile games.
This might look like another of those dotcom deals, where a wealthy corporate giant pays over the odds for a business with big user numbers but no concrete business plan. But Supercell is making money hand over fist - revenues grew from $100m in 2012 to $179m in the first quarter of this year and are on course to hit $1bn for the whole year.
Key to its success has been its ability to crack the Asian market, something many other games developers have tried and failed to do. It has already been working with GungHo and has now brought its games to Android, essential for any firm competing in China.
It all looks like a great success for Finland, also home of the Angry Birds firm Rovio, and for the wider European technology scene. Supercell was backed by London-based venture capital firms including Index Ventures and Atomico. They bought in at a valuation of $770m back in February, so have made their investment back four times over in the space of six months - though existing investors will retain half of their stakes in the business.
That means more money will now be available to invest in other start-ups, and even if Supercell is now controlled from Japan, Tuesday's news will be a great boost for the image of the European games industry.
The UK firm behind the phenomenally successful Candy Crush Saga, King.com, is currently working on its stock market debut, while the Moshi Monsters business Mind Candy is also rumoured to be thinking of an IPO. Both may end up on New York's Nasdaq over the next year.
What is slightly disappointing is that these companies seem to be looking outside Europe - to Asia or the US - when they are seeking the funding they need to progress to the next stage of their development. But European games developers are showing that they have mastered what consumers want in the mobile world and using their skills to build big businesses in a hurry.