7 reasons why Buzzfeed is the death/saviour of news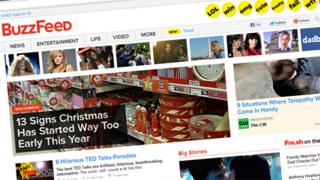 The social news site Buzzfeed is growing at a scary rate, racing past serious news services like the New York Times - and the BBC - as the way younger people hear about what's happening around the world.
It's even announced that it will be launching French, Spanish and Portuguese editions, using students and a language teaching platform called Duolingo to translate stories.
So, in the spirit of a Buzzfeed list here are seven reasons why we should love/hate it:
1. It's popular with the kids, get over it…..
With 85 million visitors in August, it is fast becoming one of the most popular sites on the web. And look at where more than a billion Facebook users get their news - Buzzfeed is top of the list when it comes to stories shared by users, ahead of the Huffington Post, CNN and the BBC.
And as the founder Jonah Peretti put it in a memo to staff, it's reaching an important audience:
"The world needs sustainable, profitable, vibrant content companies staffed by dedicated professionals; especially content for people that grew up on the web, whose entertainment and news interests are largely neglected by television and newspapers."
2. Yeah, but reaching them with what?
"This Baby Elephant Being Reunited With His Dad is The Cutest Thing You'll See Today" and "9 celebrity tweets you missed today" - if that is the future of journalism, heaven help us all…
3. But Buzzfeed is growing up…
Some other Buzzfeed headlines today: "The Big Winner in JP Morgan's Earnings - lawyers", "Why These Three Economists Won The Nobel Prize", and "Blackberry's Last Ditch Attempt To Win You Over is Pretty Hilarious". There's business, technology and politics on Buzzfeed, and it's recruiting some serious journalist talent in the US and in London.
4. But clicks come first…
When I met Jonah Peretti earlier this year and suggested that the cute and silly stuff was just part of a long term plan to fund serious investigative journalism he laughed. "You don't get it," he said. "We love the funny stories - it's what we're about." And some of the daft stuff is brilliantly done. Look at "The 29 Stages of A Twitterstorm."
But serious or silly, it is all about clicks - any Buzzfeed writers who can't build an audience for their stories will soon be heading for the exit.
5. Amazingly, it's making money….
The hardest trick in the modern media is making online news profitable - just ask anyone from The Guardian to The Sun. But as well as employing more than 400 people - technologists, journalists, marketing types - Buzzfeed is, according to Jonah Peretti, now making money. It was "accidentally" profitable once before in 2011, and then spent lots on expansion. Now it looks well placed to become a media powerhouse and without loads of intrusive advertising…
6. Ah, but it mixes advertising and content…
Buzzfeed's clever trick is to teach advertisers to write Buzzfeed-like stories which promote their brands without in-your-face messages. On this morning's Today programme Jonah Peretti insisted that there was a clear division between "church and state", advertising and content. That may not be anything like as clear to Buzzfeed readers who click on "13 Signs You're Addicted To Fashion Blogs" without noticing that is sponsored by Blackberry UK. Mind you, whether that does any good to Blackberry is another matter entirely…
7. And here's a cute picture of a dog with a bandaged paw…..
Well, if you can't beat them…..