Argos launches own-brand budget tablet for 'tweenies'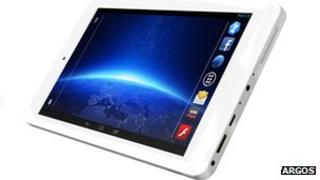 Argos has launched its first own-brand Android tablet computer in time for the Christmas shopping season.
The 7in (18cm) tablet will retail for £100 and run on Google's Android Jelly Bean 4.2.2 operating system.
The MyTablet will come pre-loaded with apps and games, Argos said, including Angry Birds and BBC iPlayer.
The launch follows hot on the heels of Tesco's Hudl launched last month, another more powerful 7in tablet priced at £120.
Argos says the tablet, available in pink or silver aluminium, is aimed at the "tweenie" market of eight- to 13-year-olds and has parental controls already enabled.
The MyTablet features a 1.6GHz dual-core processor, a 1024 x 600 resolution LCD glass screen, 8GB of built-in memory, and wi-fi and bluetooth connectivity.
Simon Barry, Argos technology trading manager, told the BBC: "We think this hits the sweet spot in terms of price and performance.
"Kids find it hard to share, so we've priced our tablet at a level that means everyone in the family can have one."
The MyTablet matches the cheapest 8GB Amazon Kindle Fire, and rival budget 7in tablets from Acer, HP and Lenovo.
"We know a lot of families are probably feeling worse off this Christmas than last," said Mr Barry, explaining the pricing strategy.
"We're confident MyTablet is going to do really well."
Shaun Collins, chief executive of research company CCS Insight told the BBC: "The UK tablet market has seen enormous growth in the last 12 months - we expect 17 million tablets to be sold this year, over half of them in the 7in category."
The MyTablet, which is produced under the retailer's own Bush electronics brand in partnership with a Chinese manufacturer, is designed with basic games and social networking in mind, said Mr Barry.
"I think the £100 tablets will be the most popular this Christmas because their quality and performance has improved a lot over the last year," said Francisco Geronimo, European mobile devices analyst at IDC.
"While they're not as good as higher-priced, more highly specified models, they're good enough for most social networking and gaming needs," he added.
IDC expects nearly 230 million tablets to be shipped in 2013, giving them a near 15% share of the connected device market.
And over the next five years it expects the global tablet market to grow by 79%.
The MyTablet will go on sale on Wednesday.