WH Smith takes website offline after porn e-book scandal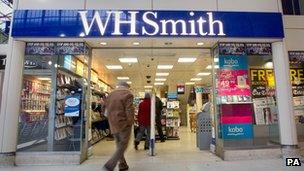 WH Smith has taken its UK site completely offline until all abuse-themed e-books are removed from its product listings.
The move comes after last week's revelations that Amazon, WH Smith, Barnes & Noble, and other retailers were selling pornographic e-books featuring incest, rape and bestiality on their sites.
WH Smith said it was "disgusted" by such titles and found them "unacceptable".
It takes e-book content from Kobo.com.
In a statement Kobo said it was "working quickly to review its catalogue and remove the content, authors and publishers in question".
"We are also evaluating new procedures to help ensure that this type of content will not become available... in the future," it said.
Meanwhile visitors to the WHSmith.co.uk website were greeted by a holding page statement.
The retailer said it had taken the site offline "to best protect our customers and the public".
"Our website will become live again once all self published e-books have been removed and we are totally sure that there are no offending titles available", it said.
"We sincerely apologise for any offence caused."
While Kobo said some publishers and authors had violated its self-publishing policies, it maintained that its goal was "not to negatively impact the freedom of expression and the work of the amazing self-published community that has been created at Kobo.com."
Over the weekend US retailing giant Barnes & Noble said offending titles were "in violation" of its policy on content offered in the NOOK Bookstore and were in the process of being removed.
"When there are violations to the content policy that are brought to our attention, either through our internal process or from a customer or external source, we have a rapid response team in place to appropriately categorise or remove the content in accordance with our policy," it said.
Self-published e-books have grown massively in popularity along with the growth in digital e-readers and tablet computers, but retailers have been struggling to filter explicit content that breaches their website guidelines.
On Friday, technology news site The Kernel revealed how Amazon, Barnes & Noble, WH Smith, Waterstones and Foyles were listing what it called "breathtakingly obscene" books on their websites.
But Fiona Allen, spokeswoman for Waterstones, told the BBC: "None of the e-books mentioned in current reporting are now or ever have been available in Waterstones shops or listed on Waterstones' website."
She admitted that Waterstones was concerned about some print titles and was investigating those, but that all such printed book data was supplied by Nielsen, a data provider.
A spokesman for Foyles told the BBC: "Foyles' e-book site does not take a generic feed of self-published e-books, which is where many of these problems arise, so none of the titles mentioned in these reports has ever been ordered from our website or supplied by Foyles.
"In common with other booksellers, we do take a central feed of print book data from Nielsen and have approached them to see what we both might be able to do to address this industry-wide issue", he added.
Related Internet Links
The BBC is not responsible for the content of external sites.