Ford car takes control of steering to avoid collisions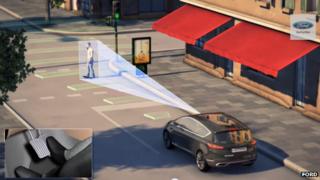 A car that takes control of the steering wheel when it detects the risk of a collision is being tested at a research facility in Germany.
Ford said the Obstacle Avoidance system first warned the driver of danger and then took charge if they did not react.
The firm said the equipment had been fitted to one of its vehicles as part of a project involving other carmakers and suppliers.
One analyst said it was a staging post on the route to "driverless cars".
The system scans up to 200m (650ft) ahead by using three radars, a number of ultrasonic sensors and a camera, which are all installed in the vehicle.
An additional built-in display shows a warning sign and sounds a chime. Then, if necessary, it applies the brakes, scans for a gap in the road ahead, and steers to avoid a crash.
"You're driving down the road and a pedestrian or something comes out from either side of your vehicle from your peripheral vision where you don't have a good look at it," said Barb Samardzich, vice-president of product development at Ford's European division.
"Obstacle Avoidance can sense that the pedestrian or that object is coming across the front of your vehicle. If it doesn't sense you responding accordingly in your vehicle by braking or manoeuvring, it will take over."
The firm showed off the tech at a facility in Lommel, Belgium, earlier this week.
Safety race
The new technology builds on safety features already offered by Ford.
Last year it introduced Lane Keeping Alert, a feature that vibrates the wheel - but does not take control - if it detects the driver is drifting out of a lane without using an indicator.
Ford's existing Active City Stop facility also aims to reduce the severity of collisions by applying the brakes if it detects an object in front of the vehicle. But it works only if the object is static or travelling less than 30km/h (19mph) faster than the car.
By contrast, the company said the new tech was being tested at speeds of over 60 km/h (38mph).
Other manufacturers involved in the project at Aachen include BMW, Fiat, Daimler, Volvo and Volkswagen. They will share data from the tests to develop systems of their own.
Volvo - which is owned by China's Geely - has already introduced its own pedestrian and cyclist alert system, which sounds an alarm and applies the brakes. The firm told the BBC in March that it was now adapting the system so it would soon be able to recognise animals.
'Significant step'
There may be resistance from some to the idea of a car taking control from its driver.
But Ford points out that fewer than one-third of all drivers involved in rear-end collisions had attempted to steer clear of the accident, according to data collected by Germany's Federal Statistical Office.
With that in mind, one independent analyst said it should not be too hard for manufacturers to convince motorists of the innovation's benefit.
"The logic behind the technology is impeccable - anything that can avoid a potentially dangerous situation that can cause injury or death sounds like a good piece of equipment," said Tim Urquhart, senior analyst at consultants IHS Automotive.
"Obviously it will come at a price. But there will be less resistance to a piece of technology like this than there will be to the concept of totally driverless cars.
"But autonomous vehicles are already being tested by Google, Daimler and others, and taking steering control in an emergency situation is obviously a pretty significant step along the road."
Ford said more tests were needed and it was not yet ready to announce a launch date for its Obstacle Avoidance system.