Panasonic 'to quit' loss-making plasma TV business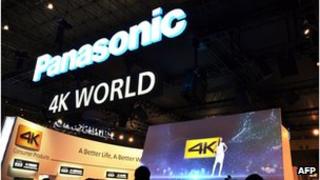 Panasonic, the Japanese electronics company, is to stop production of plasma TV screens in 2014, according to reports.
The company will close its plasma screen factory in Amagasaki and put it up for sale next year, Nikkei business daily and Reuters have said.
Panasonic's plasma TV division made huge losses in recent years.
But a Panasonic spokesman told the BBC: "Nothing has been decided at this stage."
Other electronics companies, such as Hitachi and Pioneer, have already pulled out of the sector.
In its last financial year, Panasonic as a whole made a loss of 754bn yen (£4.85bn), following a 772bn yen loss the previous year.
This is despite the fact that its plasma TVs are critically acclaimed, with the European Imaging Sound Association voting Panasonic's Viera TX-P60ZT65 European home cinema TV of the year 2013-2014.
Underperforming
Plasma screens, which use electrically charged ionised gases, are praised for their brightness, deep blacks, and rich colour displays, but tend to use more electricity than other screen technologies.
"In the last two or three years plasma TVs have lost most of the advantages they had to LCD [liquid crystal display] TVs," said Tom Morrod, senior director of consumer electronics at research company IHS.
"We're forecasting that they will be gone completely by 2018."
Panasonic president Kazuhiro Tsuga is focused on jettisoning underperforming divisions and concentrating on higher-margin products in a bid to return the group to profitability.
Panasonic, along with its domestic rivals Sharp and Sony, have all struggled to cope with falling electronics prices and stiff competition from South Korean and Taiwanese manufacturers.
Meanwhile, new screen technologies, such as LCD, organic light emitting diode (OLED), and the most recent ultra-high-definition 4K standard, may have hastened plasma's demise.